Things to do
Roskilde 2018: Eminem starts festival off with a bang
---
This article is more than 5 years old.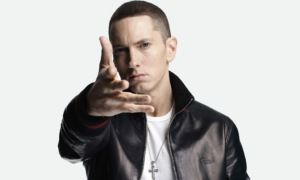 Eminem brought energy and excitement on the opening night of music at Roskilde Festival.
Hours before his arrival on stage, hundreds began to gather in the heat to ensure a glimpse of the bestselling artist of the 2000s.
After 20 years of asking, the festival committee finally secured internationally renowned American rapper Eminem – famous for hits such as 'Lose Yourself' and 'My Name Is'.
He made the Orange Stage red-hot
As the opening performer on the iconic Orange Stage, the pressure was on the rapper to set a high bar for the rest of the festival, and he did not disappoint.
Backed by a full band including violins and cellos, Eminem bounced around the stage accompanied by a hype man, and he welcomed strong singers to help him sing his most famous hits.
The crowd especially responded to 'Love the way you lie', originally sung with Rihanna, and 'River', which he first performed with Ed Sheehan.
Pyrotechnics during a fire ban – what a rebel
The nonchalant outfit of cap and hoodie worn by the rapper reflected well on the crowd who, although dressed casually on a long, dust-filled day, were ready to party well into the night.
The use of fireworks and pyrotechnics added to the excitement but did not take away from the sheer talent on display as he proved why he deserves the fame he has achieved in the rap world and beyond.
As commented by the rapper himself, his performance certainly started the festival off with the bang.