News
Danish News in Brief: Child bitten by poisonous snake swimming in Danish waters
---
This article is more than 5 years old.
In other news, if the marine life doesn't get you, then your inflatable might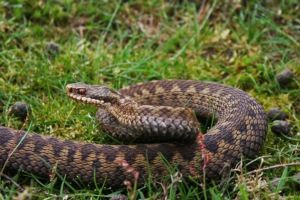 A 10-year-old boy was yesterday bitten by a venomous snake whilst swimming at a beach in Hundested in north Zealand.
The boy, who was bitten on the hand by an European adder, was quickly treated and the spread of the venom was contained.
Not drought-related
It is believed the one metre-long snake was caught by a fisherman, but later released on dry land as it is a protected species.
Jes Aagaard, a biologist attached to Naturstyrelsen, told DR the boy was "extremely unlucky" as the adder very rarely enters the sea as it only normaly drawn to freshwater.
Aagaard doubted the incident had anything to do with this summer's drought.
Bites common, deaths rare
Adders, said Aagaard, normally reside in areas heavy with bushes and trees, and most bites occur during the autumn and winter.
Every year, around 200 people are bitten by snakes in Denmark. The last fatality was in 1984.
---
The perils of using an inflatable at the beach
Parents are being urged to be more vigilant of strong winds at the country's beaches after an incident in which two girls, aged 6 and 8, were blown 50 metres off-shore on an inflatable raft at Moesgård Strand near Aarhus. A lifeguard intercepted the girls after their father failed to reach them. According to TrygFonden Kystlivredning, users of inflatables often get taken by surprise as to how quickly strong winds can take them out to sea, and last summer saw 12 such rescues.
Llamas could be the answer to wolf problem
Farmers are increasingly keeping llamas amongst their sheep to ward off wolf attacks. Llamas are unafraid of wolves, which they will attack whilst making a lot of noise. Farmers in Sweden have demonstrated that wolves don't like the prospect of taking on llamas, and Danish farmers can obtain state subsidies to obtain the animals. Llamas are also perfectly capable of flourishing in the Danish climate.
The festival whose name cannot be mentioned
The annually-held Harry Potter Festival in Odense has been warned by Warner Bros that it can no longer use any of the film universe's trademarks, reports the Daily Prophet. When the festival was launched 15 years ago, it was confident Hollywood would not come calling because it was a non-commercial event run by volunteers, but today it attracts crowds of 13,000, which has naturally generated commercial opportunities for various vendors. The festival has not called it quits yet, quipping that it may continue as 'the festival whose name can not be mentioned'.
Soldier fined for shooting copper
The soldier who accidentally shot a police officer outside the Great Synagogue on Krystalgade on May 5, whilst the pair of them were inside an observation room, has been fined 6,500 kroner. The soldier decided not to contest the charges of gross negligence and negligently causing bodily harm.
Mentally-ill man falls from rooftop
A 25-year-old man fell from the roof of a three-floor building in Sønderborg in south Jutland yesterday evening. It is believed the man is mentally-ill and fell after climbing onto the roof from a window on the floor below. Police have urged members of the public who filmed the man to not post footage on social media.