News
Culture News in Brief: No surprises on Denmark's Oscar shortlist
---
This article is more than 5 years old.
In other news, Dave Chappelle, Jon Stewart and Maroon 5 are among the big names heading to Denmark soon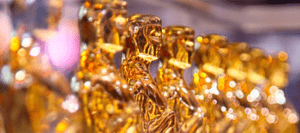 The DFI film institute has confirmed a shortlist of the three films vying to be considered as Denmark's entry in the Best Foreign Language Film category at the Oscars, and there are no surprises.
'Den skyldige' ('The Guilty') by Gustav Möller has been gathering rave reviews since its international release.
'Lykke-Per' has the Oscar-winning pedigree of Bille August to thank for its inclusion.
And Hlynur Pálmason's 'Vinterbrødre' ('Winter Brothers') won best film at this year's Bodils and Roberts.
The DFI's official nomination will be confirmed on September 20.
---
Just when you thought award season was over … 
With the Roberts and the Bodils doing their best to impersonate the Oscars and the Golden Globes, you would imagine Denmark had enough film awards. But no, somebody saw a gap in the market, and the result is 'Svend-pris' – ten awards dished out at a ceremony at Svendborg on Wednesday.  Lars Mikkelsen won the award for 'Danish actor of the year in a TV drama series' for his role in DR series 'Herrens Veje'. Other winners included 'Så længe jeg lever' (best film), Ghita Nørby (honorary prize) and 'Dunkirk' (best foreign film).
Tivoli expanding corporate hospitality business
Tivoli is expanding its corporate hospitality business in co-operation with its partner Landbrug & Fødevarer. The new business, Nimb Event, will be based at the historic Axelborg building opposite the main Tivoli entrance on Vesterbrogade, which the themepark recently acquired from Rasmus Bo Bojesen, and it will also be moving most of its administration there. Previously it was based at HC Andersen Slottet on HC Andersens Boulevard. With the move to Axelborg, which includes seating for 400 in Axelborg Hall and 320 in the Bok Hall, Tivoli is doubling its capacity to accommodate large companies.
Have you got the moves like Jagger?
Time to show the locals you've got the moves like Jagger. No, not a case of the runs from the gourmet fast food chain, it's a chance to watch Maroon 5 in concert at Mølleparken in Aalborg on June 9. Ticket prices start at 595 kroner (livenation.com). Meanwhile, Billy Ocean and Lil Pump have also announced concerts. Ocean will be playing at DR Koncerthuset's Koncertsalen on March 22 (475kr, drkoncerthuset.dk) and Lil Pump is coming to Store Vega on December 3 (330kr, livenation.com). Tickets sales for all three concerts started at 10:00 today – but you should be okay as many fans were too busy buying tickets for Paul McCartney's concert, which sold out this morning in just 35 minutes!
Giants of comedy coming to Copenhagen
Three giants of comedy have announced gigs in Copenhagen, and as an added bonus two of them are performing together. Dave Chappelle and Jon Stewart, the former host of 'The Today Show', are performing at Royal Arena on October 13 (450kr, livenation.com). And legendary Irish actor and standup Dylan Moran, who is flying high after a recent rant about social media went viral, is coming to Bremen on March 5 (255kr, drkoncerthuset.dk).