News
News in Digest: Intolerant request or a fair shake?
---
This article is more than 5 years old.
Prospective citizens must greet officials in a respectful Danish fashion, argue right-wing parties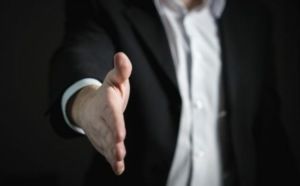 Dansk Folkeparti and Konservative want to make it mandatory for people to shake hands with mayors of their respective municipalities during citizenship ceremonies.
New rules introduced this year stipulate that new citizens must attend the ceremony, provide a signature to confirm that they will respect the founding values of Denmark, and be respectful to any representatives of government present.
A hand and an arm too!
As far as Martin Henriksen, the DF spokesperson for immigration issues, is concerned, this means shaking their hand.
"If you want to be a Danish citizen, you need to be prepared to greet politely and decently with other people," he told Ekstra Bladet tabloid. "And in Denmark that means shaking hands. That's just how it is."
Naser Khader, the Konservative spokesperson, didn't think it would be an issue for new citizens, as most "would give their right arm".
An issue abroad too
Recently it emerged that a Muslim couple in Switzerland were denied citizenship after refusing to shake hands of people of the opposite gender during an interview pertaining to their citizenship process.
And a recent case in Sweden, which involved an employer terminating a job interview with a Muslim woman because she refused to shake hands, ended up in court where a judge ordered the employer to pay the woman almost 30,000 kroner in damages.
Strict rules
For those with temporary refugee status, citizenship could be the only way of staying in the country, particularly as a newly-drafted nine-point program from the government and DF aims to send them home should it be deemed safe enough.
The proposal has the support of Socialdemokratiet, which agrees that weight should not be placed on any attachment to Denmark built up by refugee children of any age for the first five years of their stay when it comes to deciding whether to revoke their residence permit – unless it would be contrary to the child's interest or Denmark's international obligations.
The new proposals would also require a refugee to sign a declaration to the effect that they understand the protection offered by living in Denmark is temporary and that they have a duty to return to their homeland when conditions there change.
Municipalities would also be relieved of the obligation to find permanent homes for refugees with temporary protection status.
Incentives to leave
There are also financial incentives. The amount payable to people being repatriated to several countries including Syria would be raised by 20,000 kroner to 156,543 kroner for refugees with temporary protection status if they are repatriated within three years and before they seek family reunification.
On top of that, if a refugee with temporary protection status gives up his right to family reunification, 1,000 kroner per family member per month would be paid out – with a maximum of two persons per family.
Working in eldercare
Those who do integrate are increasingly finding work in eldercare, as SOSU C, one of the country's largest colleges training social and health service helpers, reports it is now educating more non-ethnic Danes than ethnic Danes in the field.
This is backed up by the number of full-time employees hired in the sector between 2016 and 2017, when 1,050 with non-western backgrounds were taken on compared to 925 ethnic Danes, according to Momentum magazine.
The figures show that 13 percent of the people employed in this sector are now non-ethnic Danes.
Good cultural fit
In many immigrant cultures, looking after the elderly has a higher status than it does in Denmark.
"In my culture, it is young people who look after the elderly until they die," Naima Amrissani, a student from Morocco training to be a social and health service helper, told DR's TV Avisen.
"I said to myself: 'Why should I not look after them when I can'?"