News
Speedways well: Lego produces life-sized version of toy car
---
This article is more than 5 years old.
With some help from Bugatti and their imaginations, toy company proves that anything is possible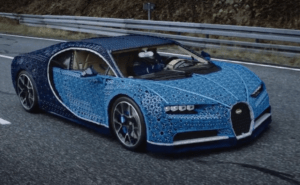 Long before Mario Kart came the toy car miniature. Assembled together in your living room with a set of dice and an imagination, and you had an imaginary grand prix contested by characters in your favourite comic book (Skid Solo always won) – or was that just a reality for us kids with no friends?
Anyhow, Lego has reversed the process with a life-sized version of a toy car, and it goes like the clappers!
A 1,500 kilo car
The result is a Bugatti Chiron built entirely from Lego Technic elements, which was manufactured at one of the Danish toy company's plants in Kladno in the Czech Republic.
The 1,500 kilo car consists of over 1 million Lego Technic elements, and no glue was used in its assembly.
It took 13,483 man-hours to assemble the car piece by piece, and in June the car was successfully road-tested at a track near Wolfsburg in Germany.
Live the slogan
Lego Technic explained that it wanted to test out its "Build for real" slogan.
Furthermore it was intrigued to see whether the same Power Functions motor technology it uses in its standard models would be a match for the road.