News
News in Digest: Handouts to fight off the Grim Reaper
---
This article is more than 5 years old.
But how good will a cash incentive be at avoiding wolves, influenza, measles and monster ticks?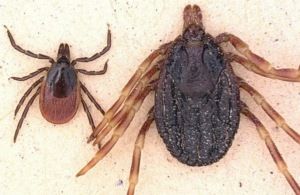 From monster ticks and wolves, to measles and lethal influenza, the country has never been so hazardous, apparently.
Heart of the matter
There's no disputing the biggest cause of premature death: heart disease. Some 16.8 percent of the population were overweight in 2017, compared to 5.5 percent in 1987, according to Idrættens Analyseinstitut.
However, conversely perhaps, the proportion of the population who claim they exercise regularly has risen from 42 to 61 percent during the same time period, and most Danes have never been healthier or had longer life expectancies.
Morten Grønbæk, the head of the Statens Institut for Folkesundhed health body, blames the huge polarisation in society between the well-off and the economically disadvantaged.
Poor people in Denmark, he says, are more likely to smoke, be obese and have an inferior standard of living to Danes living in the 1980s. They are also more susceptible to embracing the Americanisation of Danish food culture.
A loving push
In a bid to address the problem in Denmark, Venstre regional councillor Jørgen Winther and his partner Ulla Lægaard, a specialist doctor in child and adolescent psychiatry, have come up with an audacious proposal.
Children should be given 22,000 kroner as a confirmation present should they not be overweight at the time of the ceremony, the pair suggest. The scheme would cost 1 billion kroner a year and help young people who "need a loving push".
Bertel Haarder, the former Venstre minister, has been approached about fine-tuning the proposal, which also suggests repeating the incentive for the youngsters' 18th and 25th birthdays should they be initially ineligible.
Not only are Danes currently spending 100 million kroner a day on diabetes treatment, argues Lægaard, but there would be massive savings across the health system – from treating other weight-associated diseases to eliminating the need for extra-sized operating tables and beds.
Taking the vulnerable
But if heart disease doesn't get you, maybe the monster tick, Hyalomma marginatum, will give you some Borrelia bacteria, which causes Lyme disease. Found in Germany recently, the tick is five times larger than ones normally found in Denmark – a positive as they can be hard to spot after a day in the wood.
Or God forbid, it might be a wolf. To keep tabs on them, a new project at Aarhus University aims to more accurately monitor the wolves via a catch-and-release program involving GPS trackers, which will run until March 2020.
More likely it will be the flu. Around 1,600 mostly elderly people died during the last season, which might explain why the government has secured 100,000 new vaccines that will protect recipients from four strains. Those in the risk group can be vaccinated for free from October 1.
Watch out for measles, though – particularly if you're travelling abroad as there have been 41,000 cases reported across the EU (of which 23,000 are in Ukraine) – almost double the number in 2017. So far, there have been 37 fatalities.
There could be something in the water – particularly if pesticides have been used close to an area used for drilling for drinking water. The Environmental Protection Agency has called for a ban.
And finally, never under-estimate the damage a head injury could inflict on your mental health. A study of 7 million Danes carried out by Psykiatrisk Center København concludes that a head injury that requires hospitalisation will make you twice as likely to commit suicide, and a skull fracture three times more.