News
Culture News in Brief: Nikolaj Coster-Waldau misses out on Emmy
---
This article is more than 5 years old.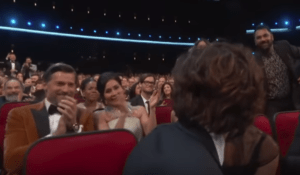 Nikolaj Coster-Waldau missed out on the Emmy for best supporting actor in a drama series last night, but still managed to get a mention in the acceptance speech, as the winner was his 'Games of Thrones' co-star and onscreen brother Peter Dinklage.
"Thank you to my brother from another mother," Dinklage told the Dane. "I love you and I share this with you because you are an amazing, handsome brother."
Meanwhile, filming has wrapped on the last season of 'Games of Thrones', which last night scooped the award for best drama series.
According to Coster-Waldau, the series held a huge party to mark the end, which was attended by over 2,000 people.
---
Viggo on the Oscar trail?
'Green Book', a dramedy starring Viggo Mortensen, is generating Oscar buzz after winning the public award at the Toronto International Film Festival on Sunday – an award that many former Best Film winner has won. Mortensen co-stars alongside Mahershala Ali, who won the best supporting actor Oscar for his role in 'Moonlight', as the driver of an African-American pianist in 1960s America – so a little bit like 'Driving Miss Daisy', but in reverse. The film marks a departure for director Peter Farrelly who together with his brother made the likes of 'Dumb and Dumber', 'Kingpin' and 'There's Something about Mary'.
Surely not these kinds of country matters, Hamlet?
Who said Shakespeare wasn't racy? Hamlet in his final scene with Ophelia (at least when she's alive) asks her about 'country' matters with a knowing wink to the audience, but this kind of subtle might be lacking at the Genderhouse Festival in Aarhus later this month. Founded by Siri Maj Knutsen and Tone Haldrup Lorenzen, the Cunt Collective are on September 26 and 27 presenting 'My Cuntry' – a performance in keeping with the festival's focus on gender, sexuality and identity.
Miss Danmark contestant with disability comes fourth
There's a saying in showbiz that nobody remembers who came second, but Celina Riel on September 12 proved them all wrong in the final of Miss Danmark 2018 when she finished in fourth place out of 30 finalists. Riel is missing the upper part of her left arm, and before she set out on the road to pageant glory, she was not sure that someone with her sort of disability could compete. Nevertheless, she is proud of her appearance, telling DR that she has never tried to hide her arm in photos. "It's a really, really big part of me and it shouldn't be hidden," she said.
READ MORE: About Town: Can Miss Danmark end an eternal losing streak?
Petition to boycott Eurovision popular among Danish celebrities 
Some 13 Danish celebrities (or at least they are well-known names in cultural circles) have signed a petition to boycott the Eurovision Song Contest next year over the host Israel's continued human rights violations in Palestine. British newspaper The Guardian launched the petition and has gathered a rather paltry 140 signatures. Among the Danes to sign, the most famous celebrity was James Bond actor Jesper Christensen. DR has already ruled out a boycott.
Lukas Graham sells out in 12 minutes
Lukas Graham's concert at Royal Arena on January 31 sold out in 12 minutes last Friday, but fear not, as there are plenty of other concerts in the capital to choose from. From one prince of pop to another, 4U: A Symphonic Celebration of Prince (Dec 7; Operaen; 370-670kr), which has been curated by multi-instrumentalist Questlove, is busy touring the world to great acclaim. Among the other recently announced concerts are: French rapper MHD (Jan 30; Store Vega; 350kr); South African singer-songwriter Yoav (Feb 19; DR Koncerthuset; 250kr); British metalcore band Architects (Jan 8; Store Vega; 250kr); British post-punk band White Lies (March 2; Store Vega; 320kr); German techno wizard Paul Kalkbrenner (Jan 26; DR Koncerthuset; 395kr); and US hip-hop star Jay Rock (Feb 7; Pumpehuset; 230kr).