News
Think-tank: Untapped source of labour in southern Europe
---
This article is more than 5 years old.
It could pay for Danish companies seeking labour to look further afield than they are doing at present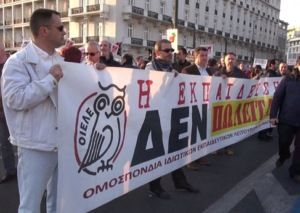 Danish companies are not as good as their foreign competitors when it comes to tapping into foreign labour resources, the think-tank Economic Council of the Labour Movement (ECLM) contends.
At the moment, there are millions of unemployed people in southern Europe. Figures reveal that Denmark is the country that uses the European job mobility portal EURES least, reports Berlingske.
READ ALSO: Mette Frederiksen proposes new foreign labour initiative at DI Business Summit
At present, there are only 1,578 Danish jobs listed on the portal compared to 17,291 Finnish jobs and 51,066 Swedish ones.
Jobs for the boys
"Swedish and Finnish companies are much keener to hire foreign labour than Danish ones," said Claus Jensen the head of the trade union Dansk Metal.
Chief economist Erik Bjørsted from ECLM would also like to see more done from the Danish side.
"It takes two to tango. We expect unemployed people to be available for work but it also demands that employers post jobs," he said. "These figures show that employers can do a lot more than they are doing at the moment."
Go north, young man
Employers are urged to broaden their horizons and look towards those countries where there are still problems with employment in double figures.
"Up to now it has been very easy to get Polish people to come here, but we haven't done very much about getting southern European labour. In contrast, they've done a lot more in Germany and if we don't pull our socks up, we will lose out," added Bjørsted.
Eurostat figures show that in August, there were just over 16.6 million unemployed in the EU, which equates to an unemployment rate of 6.8 percent. Greece and Spain are worst off, with 19.1 and 15.2 percent unemployed, respectively. There are also large numbers of unemployed in Italy, France and Croatia.