News
Museum visitor locked in a vault alone with the Danish Crown Jewels
---
This article is more than 5 years old.
Fortunately for the castle bunglers their prisoner was no cat burglar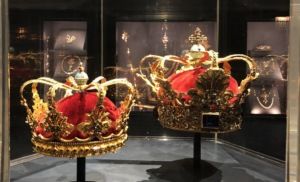 The ninth of May 1671 is a date etched in British history for it was on that day that the former Irish-Anglo army officer, Colonel Thomas Blood, stole the crown jewels.
He had them in his possession for all of ten minutes, but was pardoned by King Charles II, who had a fondness for roguery (and whoring and gambling as well).
Likewise the 21st of August 2018 should be remembered in Denmark as the day that Philippe Brégeon, a French expat, found himself locked in the vault housing the Danish Crown Jewels at Rosenbourg Castle.
Mistakenly locked in by the guards, he also had them in his possession for all of ten minutes.
Blind man's history buff
"As excited as I was to see the Crown Jewels of Denmark, I had no desire to spend the night with them," Brégeon told CPH POST.
Brégeon, a keen history buff who has since left his job as an executive in Denmark and is in between jobs, had arrived at the castle at 16:50, confident he could quickly see everything before it closed at 18:00.
But on what turned out to be a "rushed visit", he suddenly found himself "locked in the basement wandering through the vault in the dark".
When Brégeon, with the use of his phone light, eventually found the exit, it was a sealed door – presumably to stop people getting in to steal the jewels, not to prevent people getting out.
"I heard two people walking quickly to the vault and then suddenly the lights went off! I shouted: 'Hey I'm still here!' But they didn't hear me," he explained.
"I found myself locked in the castle with all the gold crowns and diamonds of Denmark!"
English or continental
Fortunately the castle doesn't just rely on a sealed door to ward off cat burglars.
"Finally, after I banged on the door and shouted loudly, the guard heard me and said 'One minute', and then two guards came to release me," revealed Brégeon.
"When they arrived, I asked them: 'Do you provide breakfast?'"
As Basil Fawlty would say: 'Naturellement'!