News
Denmark disappointed in EU climate proposal
---
This article is more than 5 years old.
Climate minister Lars Christian Lilleholt had hoped for a more ambitious strategy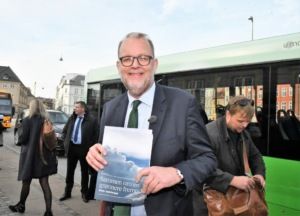 Yesterday, the Danish government unveiled a climate proposal that aims to make the country completely fossil-free by 2050.
But a newly minted EU climate proposal has failed to impress the Danes, who had hoped for a more ambitious plan to curb climate change.
"I won't try to hide the fact that I'm disappointed over the result that was reached yesterday. Something more needs to be done if we are to meet the challenge of the climate and what the UN's IPCC report found on Monday," said Lars Christian Lilleholt, the energy and climate minister.
"We must send a very clear signal to the car industry that the green transition needs to be taken seriously by the transportation sector. A greener car park is incredibly important in the battle against climate change."
READ MORE: Danish government launches huge climate proposal
Still a chance
The EU proposal yesterday included a CO2 demand for car producers that included a 35 percent reduction in 2030 for cars and a 30 percent reduction for vans.
The proposal also includes incentives for producers to make more green cars, such as electric and hybrid cars, but according to the Danes the proposal did not go far enough in terms of climate-friendly cars to live up to the long-term EU obligations encompassed in the Paris Agreement.
The EU proposal will be negotiated by the EU Parliament, Commission and Council in the coming days, so the Danes hope that a more ambitious agreement is still attainable. Denmark wants a CO2 reduction target of at least 40 percent.
"We've worked hard with a number of other countries to pull the agreement in a more ambitious direction. We aren't there yet, but the negotiations are still ongoing," said Lilleholt.