Things to do
Autumn Performance: Marriages, murder, mayhem and the Mad Hatter
---
This article is more than 5 years old.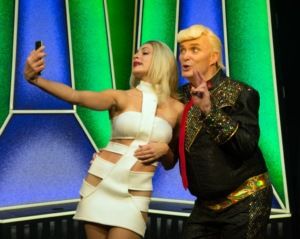 Phantom of the Opera
ongoing, ends March 31; Det Ny Teater, Gammel Kongevej 29, Cph V; tickets: 209-748kr, detnyteater.dk; in Danish
The sets in this historically huge production are of a big, bold, garish, gothic themepark aesthetic and they ably show a considerable budget exploited to its bloated potential. The overall effect is an eye-popping gothic sweetshop.
The Marriage of Figaro
ongoing, ends Oct 21; Gamle Scene, Kongens Nytorv 9, Cph K; 100-725kr; kglteater.dk
Its tale of servants getting the better of their masters made Salieri cry tears of joy and sorrow in equal measure (or at least in the film). As Mozart explained to his rival: who wants to watch Italian operas about characters who "shit marble".
Carmen
ongoing, ends Nov 1; Gamle Scene, Kongens Nytorv 9, Cph K; 100-725kr, kglteater.dk
For those familiar with Georges Bizet's opera, this should be a treat, as dancers under the watchful eye of Spanish choreographer Marcos Marcos give the passion a balletic interpretation.
Il Travatore
ongoing, ends Nov 20; Operaen, Ekvipagemestervej 10, Cph K; 150-925kr, kglteater.dk
Initially more popular with the public than the critics, Verdi's thrilling opera delivers revenge, anger and desire with (Blackadder will be pleased) some hot gypsies thrown in. This new staging gives it a contemporary edge.
Babette's Feast
ongoing, ends Nov 10; Republique, Østerfælled Torv 37, Cph Ø; tickets: 1,495kr, osterbroteater.dk; in Danish
Make no mistake, this is an experience that will stay with you forever. Karen Blixen's novel, the source material for Gabriel Axel's 1987 Os-car-winning film, is the inspiration for this lavish feast. Sure this might involve a few Danish phrases disappearing over your shoulder, but not as quickly as the delectable courses.
Oliver!
Oct 12-24; MusikTeatret Albertslund, Bibliotekstorvet 1-3; 195-245kr, billetlugen.dk; in Danish
SceneKunst's English co-founder Russell Collins is again bringing us some Dickensian magic this children's half-term: Lionel Bart's 'Oliver!' The show features his students, pros playing the adults and a nine-piece pro band.
La Boheme
Oct 20-Nov 20; Operaen Ekvipagemestervej 10, Cph K; 150-925kr, kglteater.dk
As one of the world's most popular operas, performances of this Puccini classic never fail to elicit heavy emotion, so bring a spare hankie!
Dans2Go
Oct 23-March 18; Gamle Scene, Kongens Nytorv 9, Cph K; 200-260kr; kglteater.dk
This trio of short ballet pieces is a perfect introduction to beginners. Jiří Kylián's 'Symphony of Psalms' set to music by Igor Stravinsky is inspired by biblical texts, while 'My Daddy Loves Sugar So Much He Eats It With His Nose' is a new piece by Oliver Starpov.
The Woman in Black
Oct 24-Nov 24; Krudttønden, Serridslevvej 2, Cph Ø; 175kr; that-theatre.com
Just five years after its last triumph with this Susan Hill chiller, That Theatre is back for its third outing, again with Ian Burns and Benjamin Stender in the main roles, with Barry McKenna at the helm. As That Theatre urges: "Don't come alone!"
Pelle Erobreren
Oct 25-Dec 9; Østre Gasværk Teater, Nyborggade 17, Cph Ø; 295-595kr, osterbroteater.dk
You might remember this work better as Pelle the Conqueror, the 1988 Oscar-winning film, but you've never seen it like this: as a piece of musical theatre. A father and son escape Denmark to carve out a new life in Bornholm – it's a dream we can all relate to.
Ghosting
Oct 26-Nov 10; Gamle Scene, Kongens Nytorv 9, Cph K; 200kr; kglteater.dk
Inspired by the online practice of never interacting with somebody close to you again, Corpus asks how internet creatures such as ghosts and trolls manifest themselves physically. For this interactive piece, it is advised each audience member has a smartphone.
Teater Tapas
Oct 28 & Nov 25, 16:00-20:00; Teaterøen, William Wains Gade 18, Cph K
Artists stage 15-minute performances of any style/genre in English, Danish or without words. Every monthly get-together tends to have its own theme. And yes, tapas are served.
Napoli
Oct 31-March 7; Gamle Scene, Kongens Nytorv 9, Cph K; 80-625kr; kglteater.dk
Nikolaj Hübbe and Sorella Englund have updated August Bournonville's 1840s ballet to 1950s Italy, taking inspiration from the films of Federico Fellini.
Carmen
Nov 6-7; Gamle Scene, Kongens Nytorv 9, Cph K; 100-725kr; kglteater.dk
The sultry señorita is back! Georges Bizet's classic opera − full of steamy Spanish passion, eroticism, raucous stage scenes and familiar songs that will have you swaying on your haunches was first performed in Paris in 1875 and it's been wowing audiences ever since.
Crazy Christmas Cabaret
Nov 13-Jan 5; Tivoli Glassalen; tickets: 170-385kr, londontoast.dk
Get in the mood for Christmas at Vivienne Mc-Kee's Crazy Christmas Cabaret, which this year is called 'Fogg's Off' – a departure from the Donald Trump-inspired romps that have delighted audiences for the past two years.
The Nutcracker
Nov 23-Dec 23; Tivoli Koncertsal; tickets: 275-635kr, tivoli.dk
Little Marie's magical journey into the Land of Sweets accompanied, of course, by Pyotr Tchaikovsky's iconic music, has become synonymous with the festive season. Tivoli's version places the action firmly in the themepark, including cameos from a few famous faces of yesteryear.
Die Fledermaus
Nov 24-March 3; Operaen, Ekvipagemestervej 10, Cph K; 125-725kr, kglteater.dk
Few satires encompass as many tiers of society as 'Die Fledermaus': from the nobility and nouveau riche to servant girls and state officials. And it still has time to fit in an erotic journey of seduction, alcohol, love, betrayal and tears.
The Santaland Diaries
Nov 27- 29, 20:00; LiteraturHaus, Møllegade 7, Cph N; 150kr, tickets@houseofinternationaltheatre.dk
The House of International Theatre presents David Sedaris' tale of a slacker's ill-advised decision to take on a holiday job as Santa's elf at Macy's department store. Down the Rabbit Hole members Jeremy Thomas-Poulsen and Jens Blegaa direct and act.
Alice's Adventures in Wonderland
Dec 2-22; Gamle Scene, Kongens Nytorv 9, Cph K; 100-760kr; kglteater.dk
This production has a distinctly Anglo feel thanks to its British choreographer (Christopher Wheeldon), music (Joby Talbot) and set (Bob Crowley). Expect bright colours, crazy effects and pure theatrical magic in this co-production with the Royal Swedish Ballet.