News
Denmark keeping close tabs on Rohingya refugees
---
This article is more than 5 years old.
Development minister visits Cox's Bazar in Bangladesh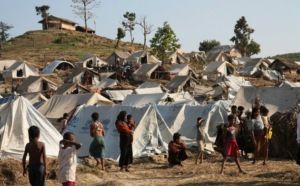 Denmark has taken a keen interest in the welfare of the hundreds of thousands of Rohingya refugees forced to flee their homes in Myanmar last year when the government cracked down on the minority group.
So far, millions of kroner's worth of Danish aid have been diverted to assist the crisis, and now the development minister, Ulla Tørnæs, has been on a visit to the refugee camp in Cox's Bazar in Bangladesh to check on the situation there. Accompanying her was David Beasley, the head of the UN World Food Programme (WFP).
"The WFP is an important core partner for Denmark, and we work closely to promote the food security in some of the world's most vulnerable countries and humanitarian situations such as in Cox's Bazar," said Tørnæs.
"There is still a need for massive humanitarian assistance in Cox's Bazar, but it is also important not to forget those Rohingyas who are still in Myanmar and help to gradually improve the conditions there."
READ MORE: More Danish aid heading for Rohingya refugees
Leading the way
As part of the trip, the Danish government has set aside 30 million kroner to WFP's humanitarian efforts for refugees and the local community in Cox's Bazar, while an additional 20 million kroner has been earmarked to the International Red Cross' efforts for the minority group remaining in Myanmar.
Denmark was one of the first countries to grant humanitarian aid when the crisis in Rakhine in Myanmar flared up last year on August 25.
In total, the Danish government has dedicated over 318 million kroner to humanitarian efforts on both sides of the border between Myanmar and Bangladesh, as well as 83 million kroner as part of an expansion of the Bangladeshi aid program to promote the country's ability to cater to the many refugees crossing the border.
Getting results
It is estimated that upwards of 730,000 Rohingya refugees have fled to Cox's Bazar and that around 900,000 refugees from Myanmar are in the area – 80 percent of who are dependent on food and other forms of aid and protection.
Danish aid has helped establish crises centres for traumatised women, schooling for refugee children, housing, infrastructure, kitchen gardens, farming guidance, protection for vulnerable groups, and camp co-ordination in general.