Things to do
Ballet Review: Wonderland beckons at this extravagant and wildly imaginative ballet
---
This article is more than 5 years old.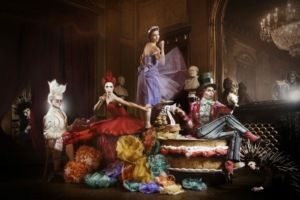 As the biggest ballet ever produced on Gamle Scene, Christopher Wheeldon's dazzling creation, based on Lewis Carroll's well-known 'Alice's Adventures in Wonderland', is a must-see this festival season. 
Going down the rabbit hole
The curtain rises on a beautiful manor set in the Victorian era. Alice and her two sisters enjoy Lewis Carroll's company while guests join in for a tea party. All of them will soon transform into the weirdest characters.
Poised between childhood and adulthood, Alice flirts with the gardener's son. Her uptight mother dismisses him. She will later become the despotic and foul-tempered Queen of Heart, terrorising everyone in sight.
Carroll's transformation into the White Rabbit sets the tone for a witty, funny and extraordinary production. A psychedelic spiraling fall down the rabbit hole drags Alice and the audience into a land of wonders.
Faithful to the book, an array of eccentric figures and strange creatures populates Alice's dream: the ugly and grotesque Duchess with her Cook and Frog-Footman, a tap-dancing Mad Hatter very much resembling Tim Burton's character, the exotic Caterpillar, the March Hare, the Dormouse and, of course, the Queen of Hearts ordering beheadings and playing croquet (with flamingos as mallet and live hedgehogs as balls) alongside her tiny husband, and the Playing Cards.
They are all on stage! And don't forget the intriguingly giant Cheshire Cat made up of huge body parts manipulated by eight puppeteers that keep dematerialising with its iconic mischievous grin.
A perennial hit
Bursts of laughter and thunderous applause filled the Danish sumptuous theatre at the premiere on Sunday December 2. The full-length ballet in three acts was created in 2011 for the UK's internationally-renowned Royal Ballet, which is based in Covent Garden, London. And this is the second performance of 'Alice's Adventures in Wonderland' since its premiere in Copenhagen in 2016.
Prominent choreographer Christopher Wheeldon and Bob Crowley, a living legend in the world of scenography, push Alice's unusual encounters to extremes of British whimsy and eccentricity.
With 350 colourful and extravagant costumes, 750 pairs of shoes, 140 roles divided among 90 dancers and 30 scenes, the performers displays total intensity, translating the work onto and into their bodies with strong dramatic verve.
A combination of 'old-school' theatre tricks and high-tech video projection allow for stunning and hilarious theatrical effects.
Joby Talbot wrote the score one scene after another, as if it were a movie. The result is vivid, instantly enjoyable, and simply superb.
Overall this is a creation of the like not seen in over 20 years. It's probably the best ever ballet to visit Denmark.
At 165 minutes long, there are two 20-minute intermissions, and the theatre recommends an age limit for children of seven years old. Additionally, a terrifically gory butcher's shop and its scary cook are definitely not for the faint-hearted.