Business & Education
Top telly nation: from blooming early to drowning in jazz to making a killing
---
This article is more than 5 years old.
In 1932 Denmark may have been one of the first countries to carry out a transmission, but it only had one channel until 1988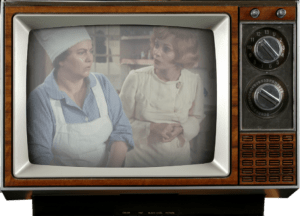 When the Duchess of Cornwall added binge-watching 'Forbrydelsen' ('The Killing') with Prince Charles to her royal schedule, you knew that Danish crime series were climbing the ranks.
'Forbrydelsen' with its signature twisted plots and dark noir realism, which debuted on national broadcaster Danmarks Radio (DR) in 2007 and then to great acclaim in the UK in 2011, was the first, but not the only Danish drama to gain worldwide traction.
Similar shows such as crime series 'Broen' ('The Bridge') and political drama 'Borgen' followed, underlining Denmark as a heavyweight producer of quality television series.
One of the forerunners
It hasn't always been that way – in fact, there was a period during the 1970s when the main focus was jazz, to the extent Denmark pulled out of the Eurovision Song Contest because it didn't fit DR's remit – but nobody can dispute Denmark's longevity, as it was one of the very first countries to carry out a live television transmission.
When Scottish inventor John Logie Baird experimented with the first transmission in London in 1925, the Danes weren't very far behind, and in 1932 they duly followed suit, broadcasting a program called 'London salutes Copenhagen' from Politikens Hus – albeit with a few technical glitches.
Although just behind Germany, Denmark's first transmission came seven years ahead of the US, and it was seemingly well-placed to capitalise on the new medium.
DR was already well established (since 1925) – at that time under the name of Statsradiofonien (it eventually became DR in 1959) – and from 1928 all Danish households with a radio were required to pay a media licence. DR's monopoly over the Danish broadcasting world would continue until the 1980s.
But in the early days, it was tough going, and by the time World War II kicked off, Denmark had made little progress on the television front compared to countries like Britain.
The German occupation of Denmark  brought with it extensive media censorship as a result of which the progress of Danish television came to a standstill.
Initially two hours a week
After the war, Danish TV returned in 1947 – and with vigour. The popularity of 'Sommer i Tyrol', a TV program that included actors Hans Kurt and Else Marie Hansen singing together, was a watershed moment, prompting famous radio personality Jens Frederik Lawaetz to remark that television in Denmark was here to stay.
Two years later, an inspired Peter Hansen, DR's chief engineer, returned from a trip to the Netherlands eager to pass on his expertise, and he helped a legion of TV production companies
to spring up. As they became more experimental, their output became ever varied.
In the winter of 1951, the first scheduled television broadcast aired on about 200 Danish people's television sets. Programs were televised for two hours every week, from 20:00 to 21:00 on Tuesdays and Thursdays, and a subscription cost 50 kroner a month (770 kroner in today's money). Genre categories in those early days included art, film, information and entertainment.
Following the introduction of a transmitter in Gladsaxe, Copenhagen in 1954, most of Zealand could watch television. And six years later, the entire country had a TV signal when the transmitter on Bornholm was switched on.
By 1963 half the Danish population had a television set in their living room, and in 1965 the number of DR media licences reached 1 million. The aim of DR1 was to educate and inform the Danish people.  As DR was about to prove by boycotting the Eurovision Song Contest (1967-77), entertainment was never its first priority.
Quickly, the novelty factor that the advent of television brought in the 1950s and 60s began to wear off, and by the time the nation entered the 1980s, many began to question whether one channel was enough – particularly when Liverpool kicked off for the umpteenth time in a row for another two hours of live football.
One channel until 1988
Finally, in 1986, Danish politicians decided the time had come to end the one-channel monopoly, reasoning that commercial television would boost business in the country and that DR needed some long overdue competition.
A new public service channel called TV2, financed by both the media licence and TV commercials, was introduced in 1988, and it quickly earned a reputation for broadcasting popular entertainment shows, whist acting as an antidote to the predominantly left-wing perspectives aired by DR. As a result, DR began to soften up on the seriousness of its content and began producing more entertainment programs to retain viewers.
That's not to say DR1 didn't produce some immensely popular TV. In 1967, the crime series 'Ka' de li' østers?' (do you enjoy oysters?) was so popular that the city streets were empty when it aired. Another Danish favourite was 'Huset på Christianshavn' (the house in Christianshavn), a comedy show that ran from 1970-77. And DR's most popular ever drama series, 'Matador', made its debut in 1978. It was so well-received that the entire four seasons were repeated for the seventh time in 2017.
Floodgates open
DR was so energised by the appearance of TV2 that it became the first broadcaster to introduce a second channel: DR2 in 1996, whose remit included smaller programs dedicated to satire and social debate.
By the time TV2 launched its sister channel ZULU in 2000, the floodgates were well and truly opening, with TV2 alone introducing six more channels between 2000 and 2007 ahead of the analogue being switched off for good in 2009, thus making all television in Denmark digital.
Other players to enter the market included Viasat (which is owned by Swedish company Modern Times Group), which launched the Scandinavian channel TV3 in 1987, followed by TV3 Danmark in 1990 and TV3+ in 1996.
The Viasat channels have an advantage over TV2 as they are able to interrupt their programs or films with commercials, because the main office is in London and is thereby governed by British television laws (sex and violence before 22:00 is therefore not permitted). For Danish-based channels, such interruptions are forbidden.
Meanwhile, the ownership of another group of channels – namely 4, 5 and 6 – has switched several times, eventually coming full circle – kind of. Original owner Scandinavian Broadcasting System sold them to CANAL+ in 2005, and since 2012 American Discovery Communications (today SBS Discovery) has been the owner. In the same year, CANAL+, which has been providing cable television to the Danish market since 1997, became C More.
DR today has six TV channels, although in the face of impending cuts, it will soon be downsizing (by merging two channels and moving another two online) as it cuts back on production and personnel.
The downsizing comes at a time when DR's output is booming, and it has no plans to reduce its drama output. It's no exaggeration to say that some of its shows have made a 'killing' over the last decade, and there's no reason to believe its success with stop anytime soon.