General
Local News in Brief: Freeing up a room to the homeless youth of Copenhagen
---
This article is more than 4 years old.
In other news, Scandic gives hope to internationals looking for work, encouragement is given to the three-legged racers, and a reprieve is given to the squirrel on Death Row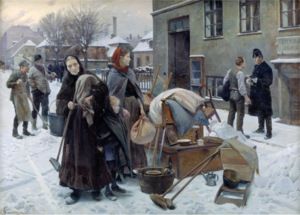 Homeless young people in Copenhagen could soon have a place to stay thanks to a new initiative started by the Red Cross that depends on the goodwill of volunteers willing to share their living space.
The initiative aims to encourage people with extra space to make room for a homeless young person for a period of three to six months.
The Red Cross wants to put a dent in the ever-growing homelessness numbers among the 18-29 age bracket. 
Cuddles cats, occasionally avoids dishes
Hans-Henrik Sørensen, one of the participating volunteers, has had space ever since his youngest daughter moved out, and he therefore decided to host a homeless person.
"I appreciate being able to make a difference, " he said.
"Once in a while you have to tell him an extra time to do the dishes, but otherwise he is just a normal young person who plays video games, studies and cuddles my cat."
Details about the new initiative, 'Hjem til dig'  (home to you), can be found here. 
---
Three elderly people murdered in Østerbro
A 26-year old man was late last week charged with murdering three elderly people on Vangehusevej in Østerbro. The police, who describe the case as "very severe and unusual", claim that at least two of the victims have had their cash cards stolen and used. The man, who professes his innocence, has also been charged with theft. 
Scandic seeking 500 new employees – the more international the better
Scandic is seeking 500 news employees in conjunction with expanding its business in Copenhagen, which will include the opening of a new hotel at Falkoner Centret. Among the jobs on offer are positions for chefs, waiters, receptionists, bartenders, housekeepers, conference co-ordinators and technicians. "Every day we serve people from all over the world, and it is our experience that an international staff contributes positively to our guests' experience," explained Anne-Mette Pedersen, Scandic's head of HR.
Employees in children's daycare all need MRR vaccine
"An employee must never infect a child with measles," the Liberal Alliance in Frederiksberg has stated. The political party proposes that all employees working at children's daycare institutions should receive the MRR vaccine. "Most children in institutions are not old enough to get the vaccine. It is crucial that an employer does not infect a child with measles," explained Laura Lindholm, a local LA councillor. However, the BULP daycare workers' union said that there are sometimes complicated and often personal reasons why some people can't get  the vaccine.
Tintin the squirrel gets a reprieve
Squirrel owner Decan Andersen is relieved. After uncertainty about whether or he would get to keep his pet, the Miljøstyrelsen environmental protection agency has decided that Tintin can stay with him for at least another year. "I am relieved but still frustrated that no permanent solution has been made yet. It is stressful not to know what will happen" Andersen told TV2 Lorry. In the disposition provided to him, it is hinted that Tintin has to be set free one year from now. However, Andersen says that the squirrel runs back to his house every time he tries to return him to back to the wild.
READ MORE: Danish celebrity squirrel Tintin risks losing his life
Hundreds participate in St Patrick's Day 3-legged race in Copenhagen
In time-honoured tradition on St Patrick's Day in Copenhagen yesterday, many wore green and drank green pints whilst singing classic Irish folk songs. The mood was high, albeit a bit clumsy (as 3 km of racing, high winds and cobblestones took their toll), as the three-legged race reached the Dubliner in central Copenhagen. Emerging triumphant out of the 250 racers taking part were Rasmus Larbæk and Alexander Brix, a pair who finished third in 2017 and second in 2018. Since 2001 the race has raised 460,000 kroner for children's charities, but it still too early to say whether it has surpassed the magic half a million kroner amount. A photo series of the day's events will be published in the next issue of CPH POST.