News
Culture Round-Up: Far-right ideology in the spotlight
---
This article is more than 4 years old.
Swedish artist Johan Tirén puts his own country's right-wing policies under heavy scrutiny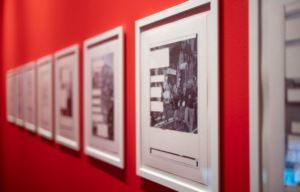 We're saying what you're thinking', a solo exhibition by acclaimed Swedish artist Johan Tirén, takes a critical look at the rise of anti-immigration, racist and far-right parties in European politics.
For more than two decades, Tirén has examined the ideology and impact of the parties through his art, with a specific focus on the conditions of xenophobia and racism.
Careful introspection
The exhibition looks at the nationalist, right-wing populist Sverigedemokraterna (Sweden Democrats), which has become the third largest party in Sweden.
In a video installation from 2005 and two new works created for the CAMP exhibition, the artist maps the party's roots in the racist movement Bevar Sverige Svenskt (Keep Sweden Swedish) and punctures the party's vision of a monocultural society and its realisation.
The exhibition invites audiences to reflect on how far-right groups have managed to enter parliaments across Europe, and how we can confront their politics.
---
Insufferably twee
Denmark finished 12th in Eurovision – not bad considering it finished 10th in its semi and only qualified for the final by one point. Opinion in the British Isles mostly agreed that 'Love is Forever' by Leonora was soppy nonsense, with the Guardian calling it an "insufferably twee sway-along ditty". Meanwhile, it has been confirmed that the capital region will host next year's Eurovision Song Contest qualifier – for the first time since 2011.
Rolexgate hunt over
The police have abandoned the hunt for conceptual artist Marco Evaristti's art piece 'Rolexgate', which was stolen from an art museum in Kolding in January. However, another artwork, Kay Bojesen's wooden monkey scultpture, which was stolen from the same museum a month earlier, has been recovered.
Quite a promotion
The second runner-up has now been named Miss Denmark 2018. The original winner gave up the title because she could not represent the country in Miss World in December, and her runner-up has been stripped of the crown for talking about the competition in a DR documentary that is critical of main organiser Lisa Lents.
Healthy share
Danish films took a 30 percent share at the box office in 2018 – some 3.7 million of the 12.5 million tickets sold. A total of 26 Danish feature films were released over the course of the year.
Gestapo bomb film
Ole Bornedal has confirmed that his next film, 'Shadows in my Eyes', will depict the bombing of the Gestapo headquarters in Copenhagen in 1945. Shooting is scheduled to start in the late autumn.