News
Sport Round-Up:Will Irish eyes be smiling? Remember the last time they had to attack?
---
This article is more than 4 years old.
Sixth clash in just two years between the nations, of which four have ended in draws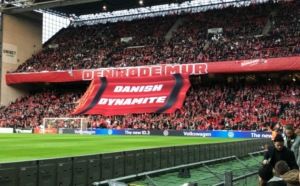 Denmark and Ireland are getting ready for their showdown in Dublin on November 18 that will determine which team automatically qualifies for Euro 2020.
Relax Jens, don't faint just yet: a point will be enough for the Danes to qualify on Monday.
A draw really doesn't seem like an extraordinary request: Denmark have managed the feat four times against Ireland in the last two years, while the other game ended in a glorious 5-1 victory in Dublin to qualify for the 2018 World Cup.
Even if Denmark fails to manage a point, they'll have another opportunity to make it to the finals via the European Nations League playoffs next March.
A different Zealand
Before going up against the Danes, the Irish will play a friendly game against New Zealand on Thursday.
Ireland manager Mick McCarthy intends to give younger, inexperienced talent an opportunity to impress against the All Whites, but he will make sure the 'Big Guns' are primed and ready for the Red and Whites on Monday.
Ireland needs to play New Zealand "with the same respect, but quite clearly the game doesn't have the same importance," he told media.
"The players know that, I know that – I've been there. You want to play well in a friendly and there are a few nerves, but it's not like Monday night."
Swiss permutations
Ireland will have an extra element on their minds against the Danes: they will need a 2-0 win to qualify if Switzerland only manages to take four points from its upcoming meetings against Gibraltar and Georgia – even though that's unlikely.
If they fail to win on Monday, Ireland, as Denmark, have an additional chance of landing a playoff spot – one of a myriad of permutations heading into the weekend.
How so? As my editor – himself a football enthusiast who owns a Puskás shirt – so eloquently put it: "Mere mortals don't have time to look up all the fucking rules."
Weakened side
There's good news for Denmark team-wise: 19-year-old Brighton forward Aaron Connolly, who was supposed to play on Monday, will not make the cut as he suffered an injury during a recent game against Manchester United.
Connolly's injury is a big blow to Ireland as one of its most important players, Séamus Coleman, is suspended.
The captain got a second yellow card for handball during the recent 0-2 loss to Switzerland.
Parken beckons
So it's looking good for manager Åge Hareide, who'll enter the game with a Danish team that is undefeated in the qualifiers. In fact, the Danes haven't lost a competetive game over 90 minutes since enduring a home loss to Montenegro in 2016.
The Danish Dynamite are really close to their dream of playing in a major tournament on home soil – all three of their group games will be at Parken.
First the formality of beating Gibraltar at home on November 15 and then three days later: Doomsday in Dublin – catch both games on Channel 5 and Eurosport Player.
---
FCK poised to pounce
A win at home against Malmö FF on December 12 will see FC Copenhagen through to the last 32 of the Europa League. Unbeaten in the group following two 1-1 draws against Dynamo Kiev, with whom they share first place, the Lions could secure qualification a game early if they win away at Lugano on November 28. In other news, club captain Carlos Zeca has signed a new contract.
Rindom is Rolex royalty
Anne-Marie Rindom has become the first Dane to win the prestigious Rolex 'World Sailor of the Year' international award. The 28-year-old European and world champ won a bronze medal at the 2016 Olympics in Rio – a feat she hopes to better this coming summer in Tokyo.
Joins the 100 club
Columbus Blue Jackets right winger Oliver Bjorkstrand, 24, has become the sixth Dane to reach 100 career NHL points. The other five are Frans Nielsen (458), Mikkel Bødker (323), Lars Eller and Jannick Hansen (both 265), and Nikolaj Ehlers (213).
Ready for big year
The Telia Parken stadium will continue to host the majority of games played by the men's national team through to the end of 2022. However, the Nations League games, and two to three others, will be played at other stadia. News has also emerged that the new lights Parken requires to live up to Euro 2020 hosting demands will be ready for the spring resumption of the Superliga.
Easy for Eller and Ehlers
Lars Eller and Nikolaj Ehlers have both made strong starts to the NHL season for their respective teams, the Washington Capitals and the Winnipeg Jets. Ehlers has racked up 14 points in 16 games for the Jets, while Eller has tallied 11 points in 17 games for the Caps.
Exclusive company
Denmark defender Joachim Andersen made the Champions League team of the week for his performance for Lyon against Benfica. The 23-year-old scored with a header after four minutes in a 3-1 win – the Dane's first goal for the Ligue 1 side since moving from Sampdoria last summer.