News
Business Round-Up:US our top market, but at what cost?
---
This article is more than 3 years old.
Declining production abroad means fellow EU states will sub-contract less from Danish companies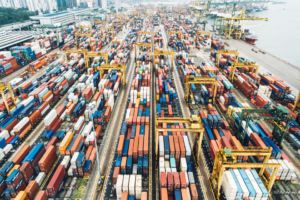 In the build-up to the 2019 General Election, this newspaper ridiculed Enhedslisten leader Pernille Skipper for not knowing that Germany was Denmark's biggest export market, questioning how it would look if Denmark was a company and an employee didn't know who its biggest client was.
But a major shake-up last year has seen the economically-stronger US jump three places to overtake Britain, Sweden and top dog Germany, all of whom struggled in 2019, to become Denmark's largest export market.
In 2019, Denmark exported goods worth 157.6 billion kroner to the States, compared to just 155.7 billion to Germany.
Apologies, Pernille, you can keep your job at the company most of us know as Denmark.
Paradoxical year
Broken down (based on a graph supplied by Danmarks Statistik), 53 billion kroner of the exports to the US came from Denmark (compared to 99 billion to Germany), 45 billion from outside Denmark (10 billion) and 60 billion were services (47 billion).
Maritime transport accounted for 43.4 percent of Denmark's total service exports to the United States, compared to 18.9 percent of the services to Germany (second biggest behind travel, which accounted for 36.3 percent).
Overall, Danish exports were at their highest level for eight years – a net surplus of 185 billion kroner – with pharmaceuticals and wind energy leading the charges thanks to the strong performance of Novo Nordisk and Vestas.
Jeppe Juul Borre, the chief economist at Arbejdernes Landsbank, described 2019 as a "paradoxical year", as despite the success there have been many obstacles, such as the continued controls on the borders with Germany and Sweden, the riots in Copenhagen, the US trade war with China and Brexit.
Does not bode well
However, the struggling German economy does not bode well for Denmark, warns Dansk Industri's chief economist, Allan Sørensen, who cites a dip in the export of raw materials and parts to other European countries as a foreshadowing of a likely decline in 2020.
"Unfortunately, declining production abroad means that they will also sub-contract less from Danish companies," he told Danmarks Statistik.
"German industry is in big trouble. Production is at its lowest level since 2014. That does not bode well for our exports to Germany."
Looking ahead, Sørensen sees great uncertainty – particularly in light of the ongoing coronavirus.
---
Banks in SKAT's sights
The Skattestyrelsen tax agency has issued a demand for 880 million kroner in compensation from nine banks in relation to the share dividend scam, which has defrauded the treasury of 12.7 billion kroner. The amounts range from 14 to 224 million. The banks are Goldman Sachs, Deutsche Bank, Citi Bank, UBS, Morgan Stanley, Barclays, Bank of America/Merrill Lynch and Bank of Nova Scotia.
Banks see profits dwindle
Both Nordea and Danske Bank saw a major decline in profits in 2019. Nordea's profits halved to 11.5 billion kroner, as revenue fell 6 percent to 64.5 billion and total expenses rose 19 percent to 44.7 billion. Danske Bank's profit, meanwhile, fell 6 billion to 13.8 billion. However, it made a net gain of 23,600 customers following a net loss of 11,000 in 2018.
June merger expected
Dansk Industri and Dansk Byggeri are planning a merger, with June mentioned as a possible date. While Dansk Industri counts over 11,000 Danish companies among its members, Dansk Byggeri represents about 6,000 companies in the construction industry.
Arla's GM pledge
In April 2021, Arla will cease producing milk from cattle fed genetically-modified feed. Around 10 percent of its dairies use GM feed, but consumer demand for GM-free milk has forced Arla's arm to make the pledge.
In thick cement
FLSmidth has come under heavy fire for its involvement in a huge corruption case in Tunisia. The case stems from 2010 when FLSmidth and Turkish outfit Prokon-Eko paid Carthage Cement 281 million euros to build a cement factory – a price that a Tunisian court has ruled was 30 million over the odds.
Top shares thriving
The Danish C25 stock market enjoyed a scintillating start to 2020 – its best since 2014. Almost half, eleven of the companies, enjoyed gains of over 10 percent, and 20 saw their share prices rise. Pharma firm Ambu led the way with a 45 percent increase, with GN Store Nord, Pandora, Novozymes and Coloplast not far behind.
Another loss for Maersk
Maersk has posted a 2019 loss of about 300 million kroner on turnover of 269 billion. This year promises to be quite a challenge due to the ongoing coronavirus outbreak and new legislation regarding shipping fuel. Nevertheless, it recently acquired the US logistic company Performance Team for 3.8 billion kroner.
Jysk opening in Russia
Jysk is opening its first two stores in Russia on April 2 – the 41st birthday of the furniture retail chain. For over a year, the country manager Igor Raic worked on his own in Russia, but he has now been joined by 16 others.
SAS suspends flights
Due to the ongoing coronavirus outbreak, SAS has extended its suspension of all flights to and from China until March 29. The suspension will cost SAS an estimated 140 million kroner. In related news, Postnord has confirmed it is not able to deliver mail to the country.
Lundbeck's headache clears
Lundbeck's migraine treatment, Vyepti (aka Eptinezumab), has been approved by the US Food and Drug Administration. In what is a saturated market, Lundbeck's treatment should stand out as it is administered by a quarterly IV infusion. Most rival treatments require monthly injections. SVB Leerink predicts annual sales could hit 5 billion kroner by 2030.
Solution to rust
A 28-year-old PhD student at Aarhus University had developed a means of detecting rust in the steel girders used in construction. By placing sensors smaller than rice grains on each piece of steel, Jaamac Hassan Hire claims rust can be detected at an early stage, thus eliminating the possibility of collapsing structures such as the bridge in Genoa that killed 43 people in 2018.
Lego victory is absolute
Lego is free to sell its products in China with the knowledge they won't be sharing shelf space with duplicate products like Lepin, which uses identical branding. Rulings made by Guangzhou Intellectual Property Court in 2018 are now legally binding after a host of appeals failed to land. The defendants were made to pay Lego 4.5 million kroner and make several public apologies.
Top for business again
Denmark has again topped European Chamber's Best European Countries for Business index. It scored 86 out of 100, ahead of Sweden (84), Norway (83), Finland (83) and Switzerland (81), with the UK, Germany, the Netherlands, Iceland and Austria completing the top ten. Ukraine was ranked last, preceded by Bosnia & Herzegovina, Albania, Russia and Moldova.