News
Culture Round-Up: Parasite recipe really takes the cake
---
This article is more than 3 years old.
The 'Ram-Don' dish currently wowing Danes should really be called 'Jjapaguri'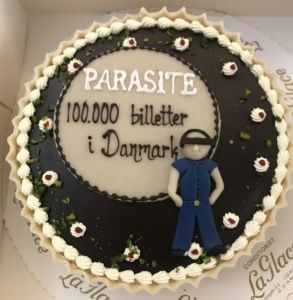 The interest in the film 'Parasite', since it became the first non-English language film to ever win the Oscar for Best Picture on February 9, is quickly becoming paranormal in Denmark.
As of February 13, 100,000 tickets had been sold, and with 100 movie theatres screening the film, there's no telling how many will end up watching it – particularly as a black and white version was recently released in the US.
In typical Danish fashion, Grand Teatret in Copenhagen marked the achievement with cake.
Curveball hit in Denmark
But the interest doesn't end with the film, as unprecedented numbers are showing an interest in Korean cuisine – most particularly the dish 'Ram-Don', which one of the characters requests her housekeeper to make.
Curiously the dish is a combination of the cheap (two different types of instant noodle) and the gourmet (a choice cut of tender beef), and according to Jeong Hwa, the co-owner of the Korean restaurant Ssam in Copenhagen, it has never been on its menu – before now.
"We simply did not think that the Danes would want to eat it," she told DR. "In Denmark, food has to be organic, homemade and fresh, and instant noodles don't exactly fit into that picture."
Lost in translation
Technically, 'Ram-Don' is actually the dish 'Jjapaguri' – a controversial translation has been blamed for the confusion – which was invented by a man tired of choosing between his favourite instant noodles.
"It's a bit like going to an Italian restaurant and not knowing what to choose between spaghetti bolognese or spaghetti carbonara," explained Jeong.
Nongshim, the manufacturer of the noodle brands, has released a YouTube video of the recipe in 11 languages.
---
Anglos snubbed again
CPH Culture, the reviews site, has again overlooked English-language theatre in its annual awards. Dawn Wall missed out on best supporting actor to Anne-Lise Gabold, who had about ten lines in 'Richard III'. Gabold's biggest flirtation with English-language cinema came in the 1971 extremely dark version of 'King Lear' starring Paul Scofield (who bizarrely won the Bodil for best actor).
Oscar misery
Danish producers Sigrid Dyekjær and Kirstine Barfod put on a brave face as 'The Cave' failed to win the Oscar for Best Documentary at the Oscars – the second time Syrian-born, Danish-based director Syrian Feras Fayyad has missed out.
Oscar joy
Maria Lucia, the star of Danish-language version of 'Frozen 2', was brought on stage at the Oscars along with a host of other Elsas to belt out a medley version of 'Into The Unknown'. Idina Menzel, who sang the original, also took part. Menzel's name was famously mispronounced by John Travolta at the 2014 awards as 'Adele Dazeem'.
Ultimate vegetation
This June's Distortion is embracing the countryside, as its Distortion Ø weekend event on the island of Refshaleøen is relocating to the same site where it hosted Karrusel last August, a hilly area with lots of vegetation.
Spacey stymied Stender
Benjamin Stender – the star of 'Hamlet Live' at Kronborg Castle these past four summers, as well as a number of That Theatre productions – has told DR how the MeToo movement led to his film being axed. He appeared alongside Kevin Spacey in 'Gore', a biopic about Gore Vidal, but Netflix distanced itself from the project when the revelations surfaced.
Backgammon dominance
Denmark won the World Team Championship in backgammon for a fourth time in a row in January. A squad of six contested 28 matches spread across a week in France – 100 hours of backgammon that culminated in a 4-0 defeat of Greece in the final.
Artful anniversary
Art Garfunkel is marking the 50th anniversary of the release of 'Bridge Over Troubled Water' with a concert at Falkoner Salen on November 26. In related news, Queen's stand-in frontman Adam Lambert is performing at Vega on September 9 to promote his new album, 'Velvet', and Faith No More and FKA Twigs have been added to the Roskilde Festival line-up.
Olympic gold for chefs
Competing in Stuttgart last week, Denmark won its first ever gold medal at the 2020 Culinary Olympics – the unofficial Olympics for chefs – taking first place in the buffet for 120 people category.