Things to do
On Screens: Hiding behind the skirts of little women
---
This article is more than 3 years old.
Our overview of the offerings on the streaming channels, which are set to break all manner of records this fortnight!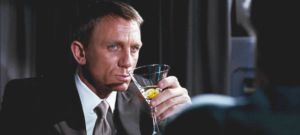 So James Bond scarpers just when we need him! To be fair, it's not as if he's been saving the world from being blown to smithereens and repopulated with Gucci models lately.
In recent films, he's won a poker tournament, stopped a coup in Bolivia, failed to prevent his boss from being murdered and foiled the kind of cyber-terrorism plot that Raymond Babbitt could have sorted out in his sleep.
Clearly he's ducking out of confronting the coronavirus (OHMSS had a similar plot), and we won't see him until November. Fat load of good he would have been anyway.
Where are Bond's barriers?
As a white privileged male, educated at Eton no less, if it wasn't for the 007 tradition, nobody would make a film about him. He's simply not challenged enough. March's line-up has got him beat in every department in that respect.
Whether it's being Down Syndrome or a drug addict, female or dead, none of them can call on an Aston Martin or Walther PPK to help them out.
It's much harder being a woman in 19th century America or 4th century warlord China.
Quite what Greta Gerwig needed to do to earn an Oscar nomination for Little Women (91; March 26) is anybody's guess, as she has managed to breathe new life into a literary source that most people assumed long dead. Saoirse Ronan and Florence Pugh got nods, though, and the general consensus is that this has finally been given the modern interpretation it has been aching for.
Mulan (postponed due to coronavirus) is the latest Disney film to cash in on the live-action treatment, complete with echoes of the soundtrack. Released on the same day as Little Women, you can drop the kids off to weep at this one, while you have a good cry over the March sisters. With the coronavirus in full swing, almost everybody's carrying tissues.
And then once they're safely tucked up in bed, put on missing prostitute drama Lost Girls (65; Netflix; March 13) – believe us, you'll want to know where your kids are when you watch this.
The man who would be Bond?
Appearing in both Little Women and Mr Jones (64; April 2) is English actor James Norton, the favourite to be the next James Bond, and one wonders whether the Danish distributors have had some serious money on him – scuppered now, as his face won't be peering out of the Mr Jones posters next to Craig.
The film tells the story of the Welsh journalist who uncovered the truth behind the Holodomor, a man-made famine that killed millions of Ukrainians in the early 1930s, which history blames on the policies of Joseph Stalin and today regards as a genocide. But while the acting, which includes Vanessa Kirby (The Crown), is mostly applauded, some critics questioned whether it deserved a longer adaptation – most probably because they're still going through Chernobyl cold turkey.
In similar vein, but on the scale of an American small town, Dark Waters (73; March 19) is a true story drama about a lawyer (Mark Ruffalo) who switched sides during an environmental lawsuit launched at DuPont 20 years ago. DuPont has not taken kindly to the film because its share price fell following its release.
But for Anne Hathaway, who plays Ruffalo's wife, it is a welcome tonic following the debacle The Last Thing He Wanted (35; Netflix since Feb 21), a wasted opportunity to depict one of the most unlikely gun-running operations in history.
A lot like Frank Spencer
Still, its plot is plausible compared to Spenser Confidential (48; Netflix; March 6), the tale of a disgraced Boston cop (he's innocent) who is quick to used his fists (the all-omnipotent Mark Walhberg) to bash up black guys (he's not racist – this is Marky Mark we're talking about).
Far more feasible is The Peanut Butter Falcon (70; March 12) in which a young man with Down Syndrome pursues his dream of becoming a professional wrestler; Bloodshot (44; April 16) in which a dead soldier (Vin Diesel) becomes a killing machine à la Robocop; fantasy duo Godzilla: King of the Monsters (Netflix; March 30) and The Letter for the King (Netflix; March 20); apocalyptic sequel A Quiet Place 2 (postponed due to coronavirus); and 1978 classic cartoon Watership Down (64; April 4) complete with talking rabbits.
In the thick of parenthood
The challenge in A Quiet Place 2 is that those pesky kids won't do what they're told, and a similar plot device is employed in the darkly comic new TV series Breeders (67; HBO Nordic; March 3) starring Martin Freeman, which sounds a bit basic (who wants to be reminded of that?) until you realise that its creators also worked on The Thick of It.
The Plot Against America (78; HBO Nordic; March 17) and Noughts and Crosses (HBO Nordic; March 5) are dystopian dramas in which history is reimagined: that the US became fascist after WWII as opposed to 2016 and Africa colonised Europe in the 14th century respectively.
They both look promising, as does Devs (72; HBO Nordic; March 5), a futuristic limited series from the imagination of Alex Garland (The Beach), which keeps its cards close to its chest – even after two episodes of the high intrigue Garland fans have come to expect.
Dave (61; HBO Nordic; March 5) and Feel Good (Netflix; March 20) star two US stand-up comedians as themselves, again with challenges. While Dave (Burd) is trying to follow in Eminem's footsteps, Mae Martin is introducing her biggest fan to the joys of lesbian sex whilst fighting addiction.
Meanwhile, among the returning series we've got The Protector (S5; March 6) and Ozark (S3; March 27) on Netflix; and Liar (S2; March 3), Better Things (90; S4; March 6), Westworld (70; S3; March 16), Black Monday (S2; March 16) and Roswell (S2; March 17) on HBO Nordic.
Call us liars, but there are some blinders worth peaking at this month, but seriously, how many seasons can you crank out of a bad Monday at the stock exchange?
---
UPDATE:
Since the publication of this monthly overview of what's being released at the cinemas and online, the government has advised all cinemas to close and many film distributors have followed the lead of Bond and postponed their releases – in some cases indefinitely. 
Having watched the opening episodes of several of the new releases, we recommend subscribing to HBO Nordic, as it clearly has the lion's share of the best shows – perhaps with the exception of 'Noughts and Crosses', which has been over-rated in the British media because Stormzy's in it, innit, which doesn't stop it from being a bit shit.