InOut
On Screens: Some crucial calendar crunching during the coronavirus confinement crisis
---
This article is more than 3 years old.
Among the April offerings are some standout HBO Nordic miniseries and rich pickings from Britain on the DR site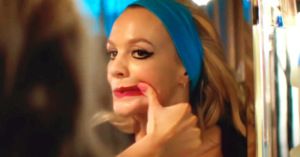 You'll forgive me if I ignore what might possibly open at the cinema this April. In all honesty, it wasn't a particularly good line-up anyway, and we covered half of them in our March edition of On Screens.
Subject to a probable Mulligan
But who knows, maybe the coronavirus restrictions will be lifted and hundreds of us per viewing, clambering all over the aisles whilst retching into one another's popcorn, will gather to watch Promising Young Woman (74 on Metacritic; out at cinemas on April 23 if it's lucky). Or maybe many of us will avoid medium-to-large gatherings forever. Will life ever return to 'normal'?
The always demure Carey Mulligan plays against type to portray a young woman (well, she's pushing 35) who likes nothing better than spending her evenings disposing of men who take advantage of drunk ladies in nightclubs. She's the female equivalent of Patrick Bateman, but she kills fewer homeless people. 
Just days after the ban on nightclubs potentially opening, Carey and director Emerald Fennell (best known for playing Camilla in The Crown) want to give the men of Copenhagen a good excuse to never go out again. To be fair, though, the reviews are solid – normally for such a film in which women unpleasantly kill men (think Michael Winner's Dirty Weekend, The Brave One or Baise-moi), they're horrid. 
You'll never guess who Sergio is
Also determined to come out in April are Mr Jones (64; April 2), Watership Down (64; April 4) and Bloodshot (Not Released Worldwide; April 16) – all of which were previewed in the last edition. 
In addition to those, in British comedy Military Wives (59; April 2), Kristin Scott Thomas (the major obviously) and Sharon Horgan (naughty corporal) collide to produce a hit record; Brahms: The Boy II (19; April 16) is a horror about a boy with a doll (a premise already disturbing enough);  rapidly rising star Awkwafina in The Farewell (89; April 16), China's answer to Parasite but without the recognition, gives us another dose of the American-Chinese culture clash served up in Oscar-winning doc American Factory; and completely uncoincidentally Marvel plans to release its second female protagonist film since DC went down the Wonder Woman path: Black Widow (NRW; April 29) starring Scarlet Johannson.
Co-starring is David Harbour, the missing policeman in Stranger Things, who is also popping up this month in Extraction (April 24 on Netflix) starring Chris Hemsworth, another attempt by the streaming service to outdo the absurdity of its 2019 offering 6 Underground. 
Talking of familiar faces, taking the title role in Sergio (April 17 on Netflix), the story of how UN diplomat Sérgio Vieira de Mello got caught up in US invasion of Iraq, is … well, actually, this is worthy of a quiz round alongside pictures of a moustacheless Nigel Mansell and the old guy from Breaking Bad when he appeared in Beverly Hills Cop. It's none other than Wagner Moura, last seen taking to the rooftops as Pablo Escobar in Narcos (okay, okay, amigo … he reprised his role in the Mexican version). 
Elsewhere among the new Netflix films is romcom Love Wedding Repeat (April 10 on Netflix), the directorial debut of Dean Craig (Death at a Funeral – both versions), for which he has assembled a half-decent cast including Sam Claflin and Olivia Munn, but it weirdly doesn't have a trailer yet. The same is true of Dangerous Lives (April 26 on Netflix), but not of Spike Lee's Blackklansman (April 28 on Netflix), an esteemed 2018 release making its Danish debut.
Finally, Bad Education (77; April 26 on HBO Nordic) retells the true-life story of Long Island school administrator Frank Tassone (Hugh Jackman), an embezzler who makes Britta Nielsen look like a corner shop sweet thief. It's another reminder why Allison Janney is becoming many people's favourite actress.
Running into an early lead
So for a month of few films, that was an awful lot of information – mostly because I haven't got a word count, and partly because the television offerings in April pale in comparison to the juicy morsels we got in March, with HBO Nordic offerings Devs (71), Breeders (65) and The Plot against America (81) leading the way, Netflix outputs Unorthodox (85) and Feel Good (83) more than holding their own, and DR serving up a fair few watchables from the UK: Scottish dark comedy Guilt, David Tennant crime series Deadwater Fell and The World at War-style drama series World on Fire, but don't be expecting a lack of diversity in this version of WWII – okay, maybe in the scenes in Poland. 
HBO Nordic would appear to have an April jump-start on its rivals with Run (April 13; HBO Nordic), a dramedy about a couple who decide to leg it (with copious amounts of back-story), starring the go-to unlikely leading man Domhnall Gleeson. He has strong support from Cate Blanchett in the miniseries Miss America (April 16; HBO Nordic) as feminism opponent Phyllis Schlafly, Mark Ruffalo as the twin brother protagonists of I know this much is true (April 28; HBO Nordic), and We're here (April 24; HBO Nordic), yet another series spawned from RuPaul's Drag Race.
Netflix's offerings, meanwhile, include Never have I ever (April 27), a showcase for Indian-American comic Mindy Kaling; US school-based sitcom Community (74; April 1; Netflix) starring Donald Glover and Chevy Chase, which is finally making its Danish debut over a decade after its stateside debut; while Brews Brothers (April 10; Netflix), a comedy about competing brothers who make beer, sounds suspiciously like the backstory of the Bjergsø twins who own Mikkeller and Evil Twin. 
Finally, among the returning series we have The Good Fight (S4; April 10), Insecure (S4; April 13), What we do in the Shadows (S2; April 16), Bosch (S6; April 18) and Killing Eve (S3; April 13) on HBO Nordic, and After Life on Netflix (S2; April 24). 
Yes, another  dose of the sickly sweet Ricky Gervais series about dying is exactly we need to get through the coronavirus crisis.