News
Zlatko Burić: actor, musician, free spirit, Croat
---
This article is more than 3 years old.
You probably know the actor better from the Pusher films, but there are considerably more strings to his bow than playing menacing drug lords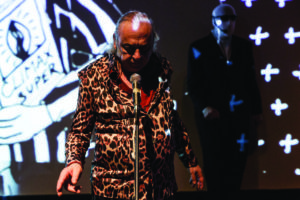 Zlatko Burić is Denmark's most famous Croatian expat. At 67, the tall man with the deep voice and the strong accent is a dual citizen of many experiences and a great deal of knowledge.
"I don't want to speak in clichés and I would rather tell the big story by painting small pictures of life," he said and, in line with this principle, here are a collection of windows offering glimpses into a much larger house – of a much longer story.
Where were you born?
I was born and raised in a city called Osijek by river Drava. At that time, it was a city of about 130 000 people, but it was 'wow, the city'. There were Croats, Serbs, Germans, Hungarians and Jews living there. I remember the diversity of girls: Jewish Blanka, German Edna and so on. I'm joking a bit, but I mean this city was a place where different types of people met. On paper, I'm a pure Croat, but my mother, who was also a Croat on paper, was German really.
How did you first end up in Denmark? 
A friend of mine and my girlfriend's, Miljenko Mayer, the best guitar player we knew in Zagreb, went to Portugal to support the revolution and met some Danish anarchists. Let's call one of them Bo (I don't remember his actual name). Later, Bo wanted to travel and Miljenko gave him our address in Zagreb, which he then gave to Lars [actual name], another Dane who he met in Lebanon. So, Lars knocks on our door and tells us he got our address from a friend of Miljenko's. We were like 'Great – then you're our friend as well!' This is how the hitchhiking network operated back then: you travelled, you met people and you gave them your address in case they came to your country sometime. Lars was going to stay a night but ended up staying a month.
Later, in 1975, my girlfriend and I went to work a summer job as students in Sweden. On our way home, we stopped in Denmark. Lars was in France because he was dating a French girl by then, but his dad met us and took us to an S-train, dragging his bike along, and explained where we needed to go. We ended up in a collective in Rødovre, where we lived for about a month with some of Lars' friends. That kind of a family structure and openness was completely a shock for me back then. It wasn't just the hippies – Denmark was a very relaxed society overall.
You moved here for good in 1983 because your Danish ex-wife, Sonja, wanted to give birth here. What was your impression the second time around? 
We lived in Nørrebro, and I was astounded by how hard the lives of the working classes were back then. I didn't know anybody in Nørrebro who had a bathroom – twice a week we'd go to the kommune's public bath. I come from a working class family myself. But in Croatia people got apartments from the factory or institution they worked for, so neighbourhoods were more mixed – they weren't as heavily dominated by one class as in Denmark.
Also, industrialisation came much later to Yugoslavia, and this is the biggest difference – even today. People in Croatia have not lost the connection with their roots in the villages. They might live and work in the big cities, but they visit and cultivate the land they have out there. Agriculture was never really industrialised in Croatia.
Did you struggle with the famous immigrant inferiority complex? 
There was a time when I worked as a cleaner for Danmarks Radiohus. I remember feeling the job of a radio host was something unreachable for me. One day I went to go and clean the usual stains off the urinals and, as I was leaving, the head of the station came walking by with Charlie Morrow. The executive didn't pay me any attention, but Charlie went: 'Woah, heyyyy!' and came up to me. The executive got very uncomfortable – he didn't know how this famous musician knew the guy who cleans the piss off the toilets. But not long before I moved to Denmark, he'd guested for our music theatre group performing in New York. Now in Denmark, I didn't even have money to see his concert. The status I had in Croatia (or in the US as a Croatian artist) and that in Denmark were completely different.
You have three kids – do they speak Croatian? 
Da. They speak well. I spoke to them in Croatian consistently. And, when they were small, I read goodnight stories to them in Croatian. I also made them read books in Croatian. It was torture for them. And they know the culture. In the late '80s, we lived in Zagreb, so they actually started school in Croatia – we were there for about a year and a half. They also know all my friends, who are considered family – they are like uncles and aunts to my children. Also, my son passed a Croatian language test at the University of Zagreb and my daughter wrote her MA thesis in art history about Eastern European and Croatian art. So it's not just a shallow acquaintance.
Is your plan to stay in Denmark for good?  
Aaaah, I don't know: don't ask me this kind of a question! It's very Se og Hør style. So in that vein: 'I want to die near the Croatian sea! When I grow old I'll buy a house close to the Danube and I'll go out on the bank and a ship will sail by with Hungarian gypsies playing as I fall in the river and die.'