News
New Gilleleje attraction that visitors will lose their marbles for
---
This article is more than 3 years old.
'The Marble Shoe' sounds like a long-lost Hans Christian Andersen tale, but it in fact a new statue located in the north Zealand fishing village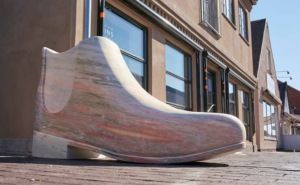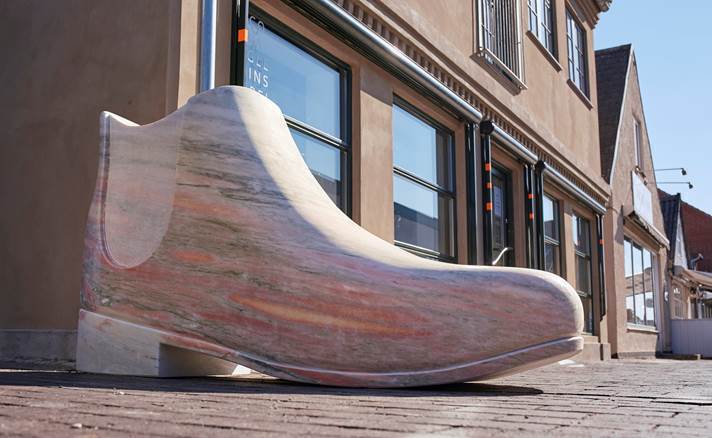 'The Marble Shoe' sounds like a long-lost Hans Christian Andersen tale – a play on the Cinderella story perhaps, with an alternative ending in which the prince places his love in some posh cement shoes and throws her into the Danube.
But standing 90 cm tall on the street of Vesterbrogade outside the headquarters of Moser Studio in the north Zealand fishing village of Gilleleje, this Marble Shoe is very real. It's a new statue.
Commissioned by studio head Susan Moser, it combines the company's expertise in design and natural stone to mark the opening of the studio. Additionally, it pays respect to a shoe shop in the building that was founded in the 1980s.
As Moser herself says: "If you need to do something, think big."
A record-breaker
Given the paucity of marble shoes, it probably won't surprise you that Moser's is the world's largest.
Some 165 cm in length, 75 cm in width and 2.4 tonnes in weight, it will no doubt start doing the  rounds on our social media platforms, complete with how it packs a shoe size of 134 – big enough for a T-Rex, claws and all.
"It needed to be something that caught the eye and could draw visitors to this part of the city. If you have an eye-catching symbol for your business, it's easier for guests to ask for directions," explained Moser.
"The shoe also symbolises that I have spent most of my life on foot and visited over 70 countries across six continents."
Isn't it good Norwegian Wood … but stone is better
The stone was sculpted using five tonnes of quality Norwegian Rose sourced from the northern town of Fauske, which borders Sweden.
Based on a design by Kvindelige Eventyrers Klub chair Mette Forum, it was carved by Nabil Hassan Altinawi, a Syrian refugee who not long ago fled to Norway with his six children.
Altinawi does not speak Danish, and Moser despite speaking seven languages no Arabic, so they communicated in Italian.
But Moser was pleased with the result. "We must fight to preserve business in the small towns in Denmark. This is my contribution," she said.