News
MEPs in uproar over detention of ASMLA activists
---
This article is more than 3 years old.
Danish justice minister called on to intervene in what politicians describe as "wrongful" arrests and allegations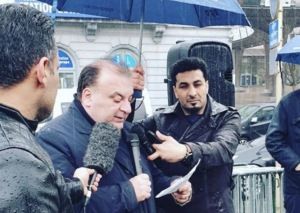 Fulvio Martusciello, an Italian MEP for the Forza Italia party, and two of his peers have condemned the recent arrest and detention of three members of the Arab Struggle Movement for the Liberation of Ahvaz (ASMLA), an Arab political group.
When they were arrested near Ringsted in southern Zealand in February, Danish media reported that they had allegedly been spying on behalf of an unnamed Saudi security agency, and the Saudi ambassador to Denmark, Fahad Alruwaily, was summoned by the Danish government to explain their activities.
Letter to the minister
However, Martusciello and his colleagues are calling for their immediate release. They have written to the Danish minister of justice,  Nick Hækkerup, to point out that the ASMLA members have been "wrongfully accused and detained" and must have the opportunity to defend themselves. 
"They were wrongly accused of spying for Saudi Arabia, but they aren't spies – neither for Saudi Arabia nor any other country," said Martusciello.
"They aren't terrorists –  they are only activists who call peacefully for the independence of their region from the Iranian regime."
Backing from peers
Among those in agreement with Martusciello is MEP Gianna Gancia from the Lega Nord party, as well as former MEP Jorn Dohrmann.
Gancia  argues that the arrests are completely unwarranted, particularly as "their region is subject to persecution and violation of human rights – especially during the pandemic".