News
Noma to reopen with new burger and wine concept
---
This article is more than 3 years old.
The iconic restaurant will kick off its first reopening phase on May 21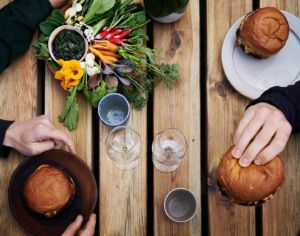 You can't go wrong with burgers and wine. Surely, that must be someone's mantra somewhere.
And that's the road Denmark's cuisine icon Noma will be taking as the embattled restaurant industry tentatively reopens for business this month. 
The trailblazers of Nordic gastronomy – and multiple-time winners of the World's Best Restaurant award – will open a temporary burger and wine concept at their Refshaleøen location on May 21.
"In this first phase of reopening, we would like to offer something that we all know and love: wine and burgers," Noma wrote in a press release.
"We are so excited to have the chance to welcome new faces to our space, take advantage of our beautiful outdoor area, and greet everyone with open arms."
Noma stated that it would require time to prepare for a reopening of its proper restaurant and it did not have a date to officially open yet. 
READ MORE: Guess who's back! Noma makes triumphant return to Michelin heaven
Teaming up with Gasoline Grill
So until the kitchen is running at full throttle again, guests can enjoy a cheese or veggie burger (125 kroner for takeaway and 150 at a table).
For its burgers, Noma will use buns developed by the renowned Gasoline Grill burger joint, which was recently voted one of the best burger joints in the world.
Glasses of wine will be available from 95 kroner, while bottles of beer will start at 50 kroner. 
The new concept will be open from Thursdays to Sundays between 13:00 and 21:00. There are no reservations and guests can place an order at the door only.