News
Danish News Round-Up: How two seconds could save your life
---
This article is more than 3 years old.
Elsewhere, Phase 2, Part 2 of the coronavirus quarantine reopening is going smoothly, and thousands of youngsters have signed up for tests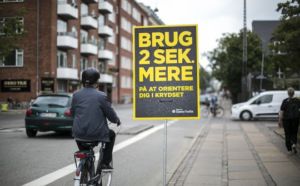 Road safety organisation Rådet for Sikker Trafik has launched a new campaign urging road-users to take more care at junctions.
'Use two seconds more' encourages road-users to slow down at junctions, thus giving them time to second-guess the behaviour of others and react if they need to.
Like falling two floors
It recognises how 70 percent of all accidents involving cyclists – on average every year in Denmark, 500 are injured and 30 are killed – take place at junctions, often because a road-user has misjudged the speed of another.
When a car hits a cyclist at 40 km/hour, it is the equivalent of being thrown from a second floor window. Some 60 municipalities are participating in the campaign.
---
Restaurant and bar reopening goes smoothly
Police forces all over the country report that yesterday's reopening of the nation's restaurants and bars went smoothly. Both the venues and patrons reportedly followed the restrictions to the letter, and TV2 reports that there have been no fines – in at least ten of the country's 12 police districts. "It has exceeded all expectations," Lars Thede, the head of Funen Police, told TV2. "As they have done throughout the Coronavirus Crisis, people did what they were told. They're happy and there has been no disorder." The reopenings were permitted according to the second half of the second phase of the gradual reopening of Denmark. The third phase is expected to start on June 8, and the fourth phase in August.
Thousands of youngsters book coronavirus tests
Around 4,500 people aged 18-25 yesterday booked times to be tested for the coronavirus, reports TV2. In response to the Ministry of Health and the Elderly's announcement that tests are available to the age bracket without the need for a doctor's referral, the response has been rapid. In a matter of hours, thousands logged onto coronaprover.dk and booked a time at one of the country's 16 temporary testing centres. Meanwhile, a further 8,100 people with referrals from their doctor were tested for the coronavirus yesterday – a 42 percent increase on last Monday. The overall capacity of the test centres is 42,000 a day.
Sexual abuse reports fall … which is not necessarily good news
There were 60 percent fewer reports of people sexually abusing children in March and April, compared to the first two months of the year, according to Rigspolitiet. However, it is not necessarily a cause for celebration, as the majority of reports are submitted by workers at daycare institutions and schools – normally relating to alleged abuse in the home. "It indicates there have been cases that have not been detected," Kuno Sørensen, a psychologist at Red Barnet, told DR.
All ready to start collecting waste
Some 142,000 children are registered to take part in this year's waste collection efforts for the Danmarks Naturfredningsforening nature conservation society – an annual effort that began in 2006. Normally the efforts are concentrated around week 17 in late April, but this year they have been delayed due to the Coronavirus Crisis and will be spread out over a much longer period. Last year the efforts collected 156,000 kilos of waste, including 1.5 million cigarette butts. Meanwhile, an adult collection has been postponed from April 26 to September 19, although volunteers have already started registering their collection efforts at affaldsindsamlingen.dk. 
Government keen to make sure imported biomass is sustainably produced
The government wants to ensure that imported biomass is produced sustainably. It therefore intends to impose regulatory requirements. HOFOR recently came under fire for importing wood chips produced in the Amazon basin to use at its biomass plant in Amager, even though it said it could prove that they were made sustainably. In the future, the government wants to see documentation that the biomass was sourced from legally felled trees and that replacements were planted afterwards – among other requirements. Around half the biomass used in Denmark comes from abroad.