News
Danish Round-Up: Bizarre gardening accidents more common among men!
---
This article is more than 3 years old.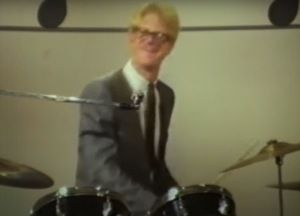 "John 'Stumpy' Pepys … great great … uh … tall blond geek … with glasses … great look, good drummer. He died, he, he died in a bizarre gardening accident some years back."
And as hilarious as it might sound, there is all manner of jeopardy awaiting us in the 'jardin', peril among the petunias and danger in the dank interior of the garden shed.
Nearly 10,000 injuries a year
There are almost 9,000 gardening accidents reported annually with every tenth one acquiring hospital treatment, according to a survey conducted by YouGov on behalf of insurance firm Alka Forsikring.
Twice as many men as women are injured while gardening – primarily because they undertake most of the heavy tasks, Alka Forsikring head, Britta Bjerregaard, told BT. 
---
Danes staying home this summer
Travel agencies across Denmark are on a campaign-race to lure local tourists as eight out of ten people residing in Denmark are looking to spend their holidays at home this year, according to a Voxmeter survey. Due to the Coronavirus Crisis,  the majority of Danes are avoiding the infection risk of travelling abroad. "Many people are worried about leaving the country because of the risk of infection, but I also believe that more people have opened their eyes to Denmark," the head of the Center for Tourism at CBS, Lise Lyck, told TV2.
Bringing back the tourists
Tourism organisations across Denmark are working to attract tourists and promoting Denmark. VisitNordvest Jutland, for instance, has initiated the VisitNordvest Coast project, which includes exploring the area on Puch Maxi motorbikes. Additionally, Wonderful Copenhagen has launched a film advertising gastronomy, architecture and the vivid street life of Copenhagen as reasons to visit the capital. Last but not least, a VisitFyn ran with the slogan and accompanying promotional video 'Funen it must be' ('Fyn skal det være'). 
Denmark reaches organic farmland goal ahead of schedule
Denmark's organic agricultural area now accounts for an area the size of Funen. The farmland has doubled from 150,000 to 301,000 hectares over 12 years. The rise in organic production has helped the government reach its organic land goal a year ahead of  schedule. The food and agriculture minister, Mogens Jensen, has set a new goal to double again. However, some academics have voiced concern that this could lead to an over-supply of organic products that would push the prices down. 
New campaign for elderly cyclists
The Council for Safe Traffic and the TrygFonden have launched a new campaign called 'Safe on a bicycle – all life' encouraging elderly cyclists, over the age of 65, to cycle safely and choose a bike without a centre bar to avoid accidents. A recent Epinion survey revealed that the centre bar is responsible for a lot of accidents. Some 81 percent of cyclists between the ages of 65 and 80 had fallen in the previous year, with 46 percent getting injured. 
Number of new au pairs on the slide in Denmark
The increasing cost of having au pairs in Denmark over the past few years is a major contributor to their steep decline. Only 222 of them received a residence permit during the first four months of the year compared to 307 last year, according to the media A4 Working Life.

Every second rape victim dissatisfied with police handling
Close to 50 percent of people reporting rapes say their experience with the police was a negative one, a new survey reveals. In contrast, 70 percent of the nation's burglary victims say they were satisfied with the police. Overall, 60 percent of victims of all types of crime are satisfied.

Mint-flavoured cigarettes banned in all EU countries
Disappointment awaits smokers trying to buy mint-flavoured cigarettes from the kiosk as their sale has been banned since May 20. A 2016 EU directive that came into force since last week prohibits selling menthol cigarettes and tobacco as many young people choose them as their introduction to smoking. According to Niels Them Kjær, the project manager for tobacco prevention at the Danish Cancer Society, about one in five Danes who smoke use menthol cigarettes. However, smoking these cigarettes is still allowed. Any store selling them can now be fined. 
Independent experts to evaluate Coronavirus Crisis management
Five independent experts from different scientific backgrounds will gain access to internal government papers to evaluate the management of the Coronavirus Crisis. This was suggested by a majority of the Danish political parties – Venstre, Radikale, Dansk Folkeparti, Liberal Alliance and Konservative – in Parliament on May 20. The investigation will take place over a span of six months analysing governmental documents from the beginning of the year through to the lockdown and reopening phases.

Former military general facing jail
Major-General Hans-Christian Mathiesen, the former chief of staff of the Danish Army, has been handed a two-month suspended sentence for an abuse of power in which he used his position to advance his colleague's military career. He was also found guilty of misconduct, negligence and disclosing confidential information by the Court in Viborg, after a two-year investigation of the case, Mathiesen has appealed against the verdict.