General
International Round-Up: Detained Iranian trio charged with terrorism financing 
---
This article is more than 3 years old.
Danish government, meanwhile, has a cost of its own to consider: Prince Joachim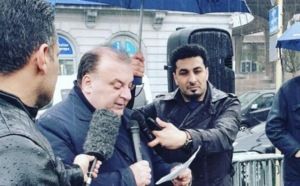 Charges against three Iranians in custody for four months are now being expanded to include the funding and promotion of terrorism, TV2 reports.
During hearings yesterday, the Prosecutor's Office of the Central and West Zealand Police requested to include the new charges against the three Arab Struggle Movement for the Liberation of Ahvaz  (ASMLA) activists, who were jailed and charged with spying for Saudi Arabia in February. 
The defendants, who have pleaded not guilty, face up to 12 years in prison. Several MEPs last month called for their immediate release on the grounds that they are merely "activists who call peacefully for the independence of their region from the Iranian regime". 
READ MORE: MEPs in uproar over detention of ASMLA activists
Talks with Saudi ambassador
Meanwhile, the foreign minister, Jeppe Kofod, has spoken with Saudi Arabia's ambassador to Denmark, Fahad bin Maayouf Al Ruwaily, to make it "crystal clear" that Denmark does not accept "such activities", reports TV2. 
"Today, it has been made crystal clear to the Saudi Ambassador to Denmark that we will not, under any circumstances, accept such activities, and our Ambassador in Riyadh has repeated the same message directly to the Saudi authorities," said Kofod. 
Meanwhile, PET head Finn Borch Andersern,told TV2 that "it is completely unacceptable that foreign countries and their intelligence services bring their conflicts to Denmark and that Denmark is used as a starting point for financing and supporting terrorism". 
---
Prince Joachim to receive an annual allowance during his stay in France
Prince Joachim will from September 1 start a new role as defence attaché at the Embassy of Denmark in Paris. However, Parliament first needs to agree a package that includes an annual allowance for the prince. On June 11, PM Mette Frederiksen will have to submit a resolution that approves such an allowance.
Danish Parliament majority supports new COVID-19 aid package for Africa
The decline of the global economy, which has been caused by COVID-19 preventative measures imposed in many countries, has plunged 28 million Africans into further poverty, contends the Foreign Ministry. It has led to the vast majority of the parliamentary parties agreeing to a new support package worth 365 million Danish kroner. The financial aid is aimed at protecting people whose lives are the most endangered by the consequences of the coronavirus.
Danish experts to assist young Moroccan entrepreneurs at online summit
Experts from Denmark will this weekend (June 12-14) take part in a virtual innovation summit that aims to create jobs in Morocco in the aftermath of COVID-19. At the Virtual Innovation Summit, the experts will advise Moroccan entrepreneurs on how to implement their ideas – particularly ones inspired by the virus itself. Among the ideas mentioned are a virtual sightseeing app to support Morocco's tourism after COVID-19 and insect poisons made from nettles for the benefit of local agriculture. "Innovation is crucial if we are to ensure sustainable development and meet the challenges facing young people in Morocco. I am proud that, through the Danish-Arab Partnership Program, we are instrumental in matching the young people and their start-ups with Danish know-how," commented Jeppe Kofod, the foreign minister.