News
Danish News Round-Up: Eight-day summer travel pass up for grabs
---
This article is more than 3 years old.
Government encourages people to travel and take public transport to boost ailing tourism industry during the summer. Meanwhile, ticks are bugging forest trekkers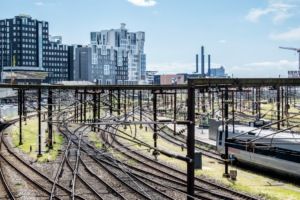 People keen on travelling in Denmark during the summer holidays can get an eight-day pass for unlimited trips by train, bus and light rail for 299 kroner.
The travel pass is part of a summer package worth 700 million kroner that a majority of political parties agreed on to help the tourism industry in the wake of the Coronavirus Crisis. Only 50,000 travel passes will be offered for June 27 to August 9.
"There will be fewer tourists coming to Denmark, and more Danes will spend holidays in Denmark. So it is a summer package that supports the Danish summer tourism industry," said the business minister, Simon Kollerup.
Public transport
As part of the summer package, the government is encouraging people to use public transportation again while following recommendations from health authorities.
Free domestic ferries will also be available for pedestrians and cyclists in July. There will also be grants for price reductions on ferries to small islands such as Fanø, Læsø, Ærø and Samsø.
The elderly will enjoy free local activities while the residents of nursing homes will be taken on several day trips.
---
Convict's sister wants mass murder case revisited
The sister of convicted hotel arsonist Erik Solbakke Hansen is appealing his case, known as the largest mass murder in Danish history. In 1989, Solbakke Hansen was committed to mental care for life over a 1973 fire at the Hotel Hafnia in Copenhagen that killed 35 people and the 1980 murder of a 15-year-old girl. Solbakke Hansen, who died in 1997, pleaded guilty to all the charges. His sister, who does not want to be named in public, told TV2 that Den Særlige Klageret should review the case because there were errors in the way her brother was interrogated and treated. Her lawyer has sent a request for the court to revisit the convictions.
Record-breaking conditions for forest ticks
A record-breaking cocktail of an extremely wet 2017, a dry 2018, and a mild 2019 winter has created perfect conditions for the growth of dreaded forest ticks this year and next. Scientists from the University of Copenhagen urge people to pay close attention to ticks when visiting forests and nature areas during the summer as they can cause diseases with symptoms such as rashes, headaches and muscle pain. One of the diseases, although still quite rare, is the tick-borne encephalitis (TBE), of which the symptoms include a flu-like illness and, in some cases, brain inflammation. Last week, a playground in North Zealand was closed down after the discovery of the TBE virus there.
Ticks 101: How to steer clear of bites
With tick season coming up from July to September, Statens Serum Institut (SSI) has released a list of tips to steer clear of forest tick bites, which in rare cases can lead to serious illness. The TBE virus has primarily been seen in ticks in Bornholm and north Zealand. SSI suggests putting on rubber boots, long sleeves and trousers before going for a walk in the woods. After coming home, trekkers should check for bites and use lint rollers on laundry. If bitten, the tick should be removed from the skin using tweezers. SSI then recommends monitoring the bite size and, if it turns red or a rash has developed, this is a sign of infection. People can also get vaccinated against TBE.
Duncan Island cocaine smuggling case to go to court
The case involving 100 kilos of cocaine thrown into the waters off the island of Langeland in February will go to court. One Latvian crew member of the cargo ship Duncan Island is accused of throwing four waterproof bags of cocaine while three others from Latvia and Russia have been charged with receiving the drugs. The court in Svendborg will decide the case, but no date has been set for the trial, according to the Copenhagen Police charge sheet . The cocaine was seized during an internationally co-ordinated drug bust.