News
Denmark and Sweden inject billions to save SAS
---
This article is more than 3 years old.
Skies are clearing up for SAS as it gets a 9 billion rescue package from Denmark and Sweden to keep flying through the turbulence of the pandemic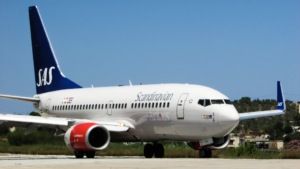 Denmark and Sweden are injecting 9 billion kroner into a massive package to save Scandinavian Airlines (SAS) from bankruptcy following major losses due to the Coronavirus Crisis.
SAS, the flag carrier of Denmark, Norway and Sweden, revealed the news in a stock exchange announcement on Tuesday, a day after it laid off 1,593 employees in Denmark as it struggles to survive the crisis.
"Together with the revised business plan, the recapitalisation plan will enable us to withstand this crisis and come back as a strong and sustainable supplier of Scandinavian aviation," said Carsten Dilling, the SAS chair.
Increasing shares
As part of the rescue plan, the Danish and Swedish states will increase their ownership shares in the airline.
Denmark currently owns 14.2 percent of SAS, while Sweden owns another 14.8 percent. The deal will increase their share to about 20 percent each.
SAS lost about 2.5 billion kroner from February to April as the pandemic ground international travel to a halt.
Affected employees
The rescue plan must be approved at a SAS general meeting on August 25 before it can be adopted.
It comes as the company's financial woes take a toll on its 11,000 employees. In Sweden, 1,900 people have been fired while in Norway, 1,300 stand to lose their jobs.