Things to do
On Screens for July: Slavic erotica … proof these are different times, indeed
---
This article is more than 3 years old.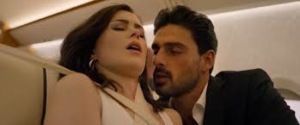 If one thing is for sure, the film industry isn't going to remember the spring of 2020 fondly. The only box office records being smashed were those for emptiest cinemas. Business for streaming platforms like Netflix, in contrast, has been booming.
Distinctly average films, such as the abominable soft-porn flick 365 Days, a film dubbed the 'Polish 50 Shades of Grey', have been out-performing Hollywood – helped by the newish social media video platform TikTok, which has encouraged over 150 million people to share videos of them watching the film's outlandish sex scenes.
Be warned: if curiosity gets the better of you and you select the film only to watch two minutes of gobble, gobble, then you count as a viewer, thus endorsing the next swarm of Shades of Grey imitators. Shame on you!
Tenet taking tenancy
TikTok can't help the many films released during the lockdown that have only been available to view since the reopening of the cinemas in June.
Earlier editions of this column previewed most of them, leaving just a small group to contemplate, of which the most keenly anticipated is without a doubt Tenet (Not Released Worldwide; Aug 12), an espionage thriller from Christopher Nolan that has a plot as hushed-up as a 1980s CIA mission in Latin America. As things stand, Tenet promises to be the biggest film event of the summer, and it could even confirm John David Washington as a bigger star than his father Denzel.
Lured by British bait
Neither Armando Iannucci (Veep, The Thick of It, Alan Partridge) nor Dev Patel (Lion, Slumdog Millionaire) had parents to aspire to. Both British-born sons of immigrants, they grew up in humble surroundings without the slightest hope of a leg-up, but yet as director and star they combine for stunning effect in an adaptation of the biggest rags to riches story of them all, The Personal History of David Copperfield (75 on Metacritic; Aug 6).
Proving that the story is indeed timeless and mostly unmined for comic potential, Iannucci's fresh retelling will introduce the story to millions more, while Patel confirms his leading man status with strong support from Tilda Swinton, Hugh Laurie and, in the role of Uriah Heep, Ben Whishaw.
Clearly it's a strong month for British cinema, even though all of these films were made in 2019, as Whishaw also delivers the goods in Little Joe (60; July 9), a horror armed with the most terrifying plants since the Triffids, while unsettling thriller Bait (84; July 16) confronts gentrification in Cornwall. Shot on a vintage hand-cranked Bolex camera, using 16mm monochrome film the director Mark Jenkin hand processed, is already being hailed as a classic.
The real Russell Crowe
Nepotism is alive and kicking in the US, or is it? Scott Eastwood, a dead ringer for his old man Clint, changed his name to Scott Reeves to avoid favoritism early on in his career, even though he ended up appearing in at least four of Pop's films. Now he's got top billing in the war film The Outpost (NRW; July 9) and, really, there's no denying his star potential. Not sure the same can be said about co-star Milo Gibson, the son of Mel, who made his debut in Dad's flick Hacksaw Ridge.
Also at cinemas, we have Trolls World Tour (NRW; July 2), a documentary about the life and career of Quentin Tarantino, QT8: The First Eight (released), a chance to see the Copenhagen-set Brian De Palma terror disaster Domino (40; July 1; Netflix), and Unhinged (NRW; July 16) starring Russell Crowe as a stalker driver – a bit like Duel but in a SUV not a truck, with too many close-ups of his seething face for our liking. Clearly this part is the closest Crowe gets to his true self since Romper Stomper.
While over on Netflix, it's the usual array of poorly conceived dating gone right and dating gone wrong movies: from Seriously Single (Aug 1) and Desperados (July 4), to Fatal Affair (July 3). The big bucks have meanwhile been spent on Charlize Theron superhero bore The Old Guard (July 10) – another graphic novel adaptation probably, but who cares?
Crawley sister square-up
All of that leaves us with this summer's television offerings, which are fortunately rather light on the ground, given that the absolute majority of us envisage spending our time out rather than in.
Hungover binge-fests will be in demand, and Stateless (Netflix; July 9), an Australian miniseries of converging stories starring Cate Blanchett and Yvonne Strahovski, is a strong candidate. Less so is Aussie counterpart The Secrets she Keeps (C More; Aug 3) starring Downton Abbey's Laura Carmichael. Meanwhile, her dead onscreen sister, Jessica Brown Findlay, heads Aldous Huxley adaptation Brave New World (HBO Nordic; July 15), which along with Cursed (Netflix; July 18), a spin on the Arthurian legend that tells the story from the perspective of the Lady of the Lake, looks like a gamble. Finally, cyber-threat comedy series Intelligence (C More; Aug 12), which stars David Schwimmer, had poor reviews when it aired in Britain.
Returning for new seasons are Line of Duty (S4; July 1) and Ramy (S2; June 19) on C More; The Umbrella Academy (S2; July 31), Good Girls (S3; July 26), New Girl (S7; July 1) and How to Sell Drugs Online Fast (S2; July 21) on Netflix; and AP Bio (S3; July 16) and Room 104 (S4; July 25) on HBO Nordic.
But if we had to put our money on one series to deliver it would be Sweden's The Twelve (Netflix; July 10), a jury-led drama that revolves around the trial of a headmistress charged with a double murder.
After all, those Swedes tend to have longer summer nights, so they must know what they're doing.