News
Danish News Round-Up: Summer weather forecast for Friday
---
This article is more than 3 years old.
The sun will finally be out on Friday. Meanwhile, restaurants are opening in the countryside to draw more dinners as the coronavirus pandemic keeps tourists away from cities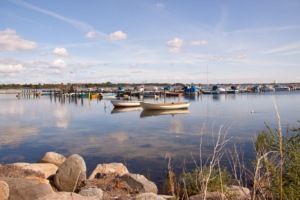 It's been a cold, windy and wet July so far but forecasters say Friday will finally bring some summer weather for holiday revellers.
Trine Pedersen, a meteorologist at the Danish Meteorological Institute, told Ritzau that Friday will have the week's best weather with sun and temperatures between 20 and 23 degrees. There will also not be as much wind as in previous weeks.
The four days leading to Friday however will be cloudy and rainy, she said.
Weekend may be cloudy
After sunny Friday, cloudy weather may return over the weekend.
The wet and windy weather is due to westerly winds blowing over Scandinavia and northern Germany.
"If you crave regular summer days with 25 degrees, you have to go down to southern Europe," Pedersen said.
---
Government to increase penalty for racing and speeding
The government plans to impose heavier penalties for racing and speeding, denouncing these as "completely unacceptable behavior that has endangered lives". The minister of justice, Nick Hækkerup, made the statement following injuries in Odense over the weekend that resulted from racing. Hækkerup said that the government will submit a bill on the matter after the summer holidays. The tighter rules will include seizing cars used for racing, immediately revoking the motorist's driving licence and 20 days of imprisonment for the first offence.
Parties debate penalties for sharing child porn
Political parties are debating whether or not young people who shared child pornographic material should retain a record of their offence, effectively barring them from becoming educators, school teachers and football coaches in the future. Under the penal code, those convicted of forwarding such material will get a record for between 10 and 20 years. DR reports that for Dansk Folkeparti, SF, Radikale Venstre and Nye Borgerlige, the rules should be revisited, with some politicians saying that while sharing the material is wrong, it is not equivalent to pedophile and sexual assault. However, Enhedslisten MPs say it is a serious crime and a lighter penalty may send the wrong signal.
Pop-up dining: Restaurants get creative to survive Coronavirus Crisis
Some restaurants have abandoned their city locations and instead opened pop-up versions in the countryside to attract diners during the summer. This is just one of the ways restaurants are becoming creative to survive the Coronavirus Crisis, which has led to a lack of tourists. One example is the Michelin restaurant Relæ in Copenhagen, which closed its doors for seven weeks and took the chance of opening up Frændekilde in North Zealand for diners on holiday, DR reports. Restaurant managers welcome the opportunity to be innovative but also express concern that many of their businesses will have to close because of the tough economic situation.