News
Mandela daughter who was envoy to Denmark dies
---
This article is more than 3 years old.
Denmark's ambassador to South Africa pays tribute to Zindzi Mandela for working tirelessly to nurture the friendship between the two nations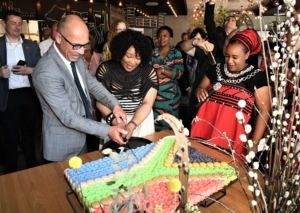 Zindzi Mandela, daughter of South African anti-apartheid leaders Nelson Mandela and Winnie Madikizela-Mandela and a diplomat who served as ambassador to Denmark, has died at the age of 59.
The South African government made the announcement on Monday but said that it was still gathering information regarding her passing. The South African Embassy in Copenhagen said that Mandela passed away in the early hours of Monday.
The cause of her death was not immediately known.
"The Danish community will remember her as a people's diplomat, grounded and never too busy to listen, collaborate and network with the man on the street as much as she did with the diplomatic community at large," the embassy said.
Political activist
Mandela took her position as ambassador to Denmark in 2015. 
The youngest daughter of Nelson Mandela and Winnie Madikizela-Mandela, Zindzi was a political and social activist who spent many years in South Africa's freedom struggle.
She is known for delivering an iconic speech on behalf of her then imprisoned father in 1985 rejecting a government offer to have him released if he denounced violence perpetrated by his anti-apartheid movement, the African National Congress.
'Heroine in her own right'
Zindzi Mandela also founded the Mandela Legacy Foundation, which aims to improve education, employment, women's rights and equality in her country.
She was also author of the book "Black As I Am", a collection of her poems.
"Zindzi will not only be remembered as a daughter of our struggle heroes, Tata Nelson and Mama Winnie Mandela but as a heroine in her own right. She served South Africa well," said South Africa's foreign minister, Naledi Pandor.
'Strong friendship'
As ambassador to Denmark, Mandela supported events promoting women's rights as well as Copenhagen Pride, saying she backed ending discrimination on the grounds of sexual orientation.
Denmark's ambassador to South Africa, Tobias Elling Rehfeld, mourned her passing.
"Zindzi was a dear colleague working tirelessly and with a smile to nurture and grow the strong friendship between #SouthAfrica and #Denmark. My deep condolence to the Mandela family," he tweeted.