News
Record 70,000 students admitted to higher education
---
This article is more than 3 years old.
The Coronavirus Crisis may have led more students to apply for higher education instead of opting to travel while on sabbatical or working student jobs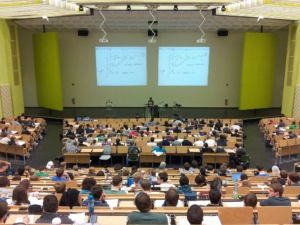 A record number of nearly 70,000 students was offered admission to higher education in 2020, an increase partly attributed to the Coronavirus Crisis.
Past midnight on Tuesday, 69,529 out of 94,604 applicants were offered places in universities across the country, the highest number ever. This represents a six percent increase compared to last year.
"It is very positive that this year, in light of the Coronavirus Crisis, we have been able to offer a place to a record number of people who want to study. It is important that we educate ourselves, especially in a time of crisis," said Ane Halsboe-Jørgensen, the minister of education and research.
Cannot go on sabbaticals
The Coronavirus Crisis may have contributed to the record figure because young people do not have as much access to student jobs compared to previous years and cannot go on sabbatical because travelling is difficult during the pandemic, DR reports.
The Parliament also created 5,000 extra study places in 2020 and 2021 in the wake of the crisis.
Four out of five students were offered the programme that was their first priority.
Lower grade requirement
The Ministry of Higher Education and Science also lowered the grade point average required for students to enter higher education programmes to allow more admissions.
For example, an average of 11.3 is now required to study international business at the Copenhagen Business School compared to 12.4 in 2019. To take up psychology at the University of Copenhagen, the grade requirement is down to 10.9 this year from 11.8 in 2019.
"I hear from many young people that they feel pressured by the massive focus on achieving high grades and it negatively affects their well-being. The lower grade limit can hopefully help them move in the right direction," said Halsboe-Jørgensen.
Housing difficult in Copenhagen
As students begin to prepare for their studies, the hunt is now on for housing.
Finding student housing is most difficult in Copenhagen as well as in other large cities such as Aarhus, Aalborg and Odense.
According to Lejebolig.dk head Michael Eggert, the capital is now the most sought after city for student housing because of low supply and increased demand.