General
National Round-Up: Health board chief: Face masks not necessary for now
---
This article is more than 3 years old.
The head of Sundhedsstyrelsen says there is no need to wear face masks for now. But some experts say it is good to prepare the public in case wearing masks later becomes required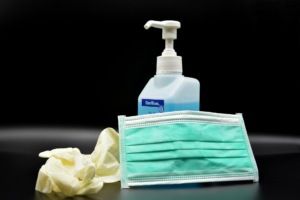 Considering the current low coronavirus infection rate, Søren Brostrøm, the head of Sundhedsstyrelsen or the National Board of Health, said that wearing face masks is not yet necessary and these should be worn only in special situations. 
However, he acknowledged that these may be need in the future. "But can it make sense in the long run when we move together in public transport and other situations? That, of course, is something we need to assess," he said in an interview with DR. 
Currently, authorities recommend wearing a face mask in certain situations. For example, those who suspect they are infected and are about to be tested are urged to wear a mask. 
Not in second wave
Brostrøm denied that there is already a second wave of infection.
"I think it is more correct to say that we are still in control of the epidemic. We are still in the middle of it, maybe even in the middle of the first wave," he said. 
"We have just squeezed it down, but now we are starting to see a little flare up again. We are keeping an eye on this – also in relation to whether further measures need to be taken." 
Mentally preparing for masks
Michael Bang Petersen, professor at the Department of Political Science at Aarhus University, believes that it will be good to prepare the public in the event that wearing masks will be required in public places.
According to him, this will establish a "psychological contingency".
"I would assume that there will be a strong political pressure to recommend wearing a face mask as a first protection if another wave comes. After all, the alternative is that if we cannot keep the infection down, we will have to shut society down," Petersen said. 
He said that Danes will likely follow the requirement should authorities impose the use of face masks, as citizens did with social distancing. 
---
Tribute for composer known as 'Sound of Denmark'
Denmark paid tribute to famous composer Bent Fabricius-Bjerre, better known as Bent Fabric, who died on Tuesday at the age of 95. Prime Minister Mette Frederiksen hailed him as "the sound of Denmark" and "a special person with an impressive musical career". Born on December 7, 1924 in Frederiksberg, he was for several decades one of Denmark's most famous and popular musicians. He was best known as the composer of the music for the Olsenbanden film and the Matador TV series. His worldwide famous single Alley-Cat won a Grammy Award for Best Instrumental. He was also a successful businessman. He was married three times and had four children.
Prince Joachim gets no injuries after surgery
Prince Joachim will not have physical effects or other injuries as a result of the blood clot on his brain, the Royal House said. The blood clot was due to a sudden dissection of an artery during the prince's holiday in the south of France. The prince underwent a surgery for this on Friday. Prince Joachim is expected to be moved out of the intensive care at the University Hospital of Toulouse as soon as possible but will continue to be hospitalised for some time to come. The Royal Family has not yet announced whether the illness will affect his post as Denmark's defense attaché in Paris set to begin on September 1. 
Danes crazy about water sports
Danes are passionate about water sports as seen in an increase in the membership of six water sports under DGI og Danmarks Idrætsforbund. The group reports 2,862 more members from 2018-2019. "It is an expression that several of the sports have become better at adapting their activities, so it is easy to get started, even if you have no experience," said Maja Holm, a behaviour consultant at Bevæg dig for livet. Canoeing and kayaking are among the sports that saw a boost in membership.