News
Local Round-Up: Urban renewal plan inspired by historic Fortress Ring
---
This article is more than 3 years old.
The streets of Linnésgade and Rømersgad will be complemented by 15 new trees and dozens of new bicycle parking slots.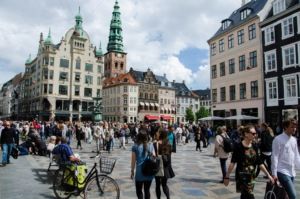 A new urban renewal plan will aim to introduce a green corridor through the city, following the route once carved out by Copenhagen's historic, green Fortress Ring, back when the city was pretty much encircled by water for defensive purposes.
For example, environmental measures will be introduced between the Botanical Gardens and Ørstedsparken, running through Israels Plads and Torvehallerne and then onto Gothersgade.
Work is beginning on the plan this week and will continue until next April, using fossil-free, electric-powered work machines .
Less chaotic
Rømersgade and Linnésgade, which are located on opposite sides of Torvehallerne, are among the streets in the city centre that are going to benefit from the urban renewal plan – for example, more bicycle parking spaces, fewer spaces for cars, more green spaces, wider pavements and 15 new trees. 
The technical and environmental mayor, Ninna Hedeager Olsen, believes the increase in bicycle parking spaces will help address a recent decline in cycling in the city centre.
"Until now, it has been quite chaotic at Torvehallerne," she said.
---
Divorce rate on the slide in Copenhagen
New figures from Danmarks Statistik reveal there were fewer divorces in Copenhagen in 2019 than at any point in the last 10 years. Some 927 marriages were dissolved last year, which is 381 fewer than the year before. Nationwide the number of divorces has also declined. In 2019, 10,454 couples across the country chose to go their separate ways, which is 4,482 fewer than the year before. Jesper Nørskov Jensen, the co-owner of the couples-assisting web portal findenkaereste.dk, believes the drop might be due to a new law giving couples with children a three-month reflection period. It might have given some couples "an extra chance", but there might be a wave of divorces in 2020 after this period of reflection, said Jensen. 
Low water level in Sortedams Sø due to problem at source, not drought
The Technical and Environmental Administration at City Hall states that the low water level of Sortedams Sø, the central City Lake bisected by the Dronning Louises Bro that leads onto Nørrebrogade, has nothing to do with a lack of rain. Instead the dryness is a result of ongoing repair work at the treatment plant at Emdrup Lake. No fresh water has arrived at the Lakes from the treatment plant since mid-March. The work has gone on for longer than expected "due to the corona lockdown", the administration commented. The administration expects the water flow to pick up again soon, but does not have a concrete time estimation. The low levels have resulted in birds congregating on exposed soil around the edge of the lake. In total there are three City Lakes, but two of them are split into two, which explains why many often refer to there being five.
Church calendars full up with corona-cancelled baptisms and weddings
Not only did Daniel and Nina Hansen, a couple from the Greater Copenhagen suburb of Køge, have to postpone their wedding, but also the baptism of their daughter, reports DR amid reports that church calendars are full to the brim with services scheduled to take place this year, but scuppered due to the Coronavirus Crisis. With more lenient rules, the Hansens can now tie the knot and dunk the baby's head. "It has been so stressful. Time and time again, we've had to call the family and postpone the party, music, food and photographer," Daniel Hansen told DR.  At many churches, in the capital and across Denmark, weddings have been booked all the way into next year. "It's like rolling a snowball," said Jørgen Christensen, the priest at Frederiksborg Castle Church. 
GoBoat opens up in Sydhavn
GoBoat's well-known blue boats have quickly become a regular part of the harbor environment in Sydhavn where four were introduced in July 9 at a pier next to the beach bar on Teglværket. A familiar sight at Islands Brygge, the boats can be used from Thursday to Sunday until the end of September or the end of October depending on the weather. GoBoat's home base in Denmark, but it also has branches in London, Australia, Malmö and Aalborg. The easiest time to get a boat is apparently on Thursday. 
Five arrested after shooting incident in Brøndby
Following a shooting episode in Brøndby on Sunday night, five people have been arrested, confirmed Copenhagen West Region Police on Monday morning. Shots were fired on Brøndby Nord Vej around midnight on Sunday night. Nobody was injured. The police cordoned off a large area around Brøndby Nord Vej and Brøndbyøster Station, which it searched using dogs and a helicopter. The police have appealed for witnesses via Twitter.