News
Denmark offers aid to Lebanon in wake of Beirut blast
---
This article is more than 3 years old.
Danish embassy among many buildings to sustain damage in massive explosion yesterday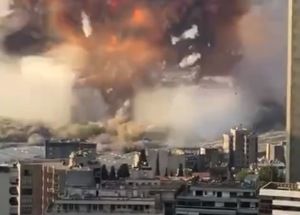 The development minister, Rasmus Prehn, has revealed that Denmark is ready to provide humanitarian aid to Lebanon following the devastating explosion that ripped Beirut apart yesterday afternoon.
The Danes are among several countries, including France, the US and Germany, to offer help to the Lebanese government.
"Many killed and wounded in the devasting #BeirutExplosion. DK is following the situation closely and stands ready to provide humanitarian assistance," Prehen wrote on Twitter. 
"#Lebanon is home to 1.5 million refugees. DK already in support. We must show solidarity in these challenging times."
READ ALSO: Terror attack averted in Copenhagen 
Embassy damaged
So far, the huge blast (see in video below) has claimed the lives of at least 100 people, while injuring over 4,000 others.
The explosion also caused immense structural damage and the Danish embassy is one of many buildings to sustain damage, according to ambassador Merete Juhl.
So far, no Danish citizens have reached out in Lebanon for assistance, but embassies from Russia, Germany and Belgium are among those reporting injured staff.