News
Culture Round-Up: Popular Netflix series spotted plotting a heist in Nyhavn
---
This article is more than 3 years old.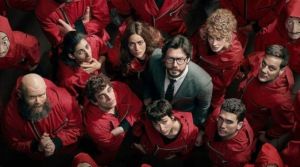 The fifth season of Netflix's popular Spanish drama series 'La casa de papel' (in Danish: 'Papirhuset'; in English: 'Money Heist') is being filmed in Copenhagen, reports Ekstra Bladet.
Camera crews and the actor Pedro Alonso, who plays one of the main characters, Andrés 'Berlin' de Fonollosa, were recently spotted in Nyhavn.
Huge success
According to the Guardian, the series is the most watched TV show in France, Italy, Argentina and Brazil – making it Netflix's biggest non-English-language TV series success.
The latest season was watched by over 60 million households in the first 20 days after its release.
In the footsteps of Weeds
It hasn't been announced when the new season featuring scenes shot in Copenhagen, the fifth and final instalment, will be released.
Other major international shows to shoot in Copenhagen in recent times include 'Weeds' and 'The Bold and the Beautiful'.
---
Old Great Belt ferry returns to Korsør
Slagelse Municipality in west Zealand is turning an old ferry into a new maritime museum and water sports activity centre, reports DR. The 69-year-old Great Belt Ferry M/F Broen, which for many years carried passengers between Halsskov and Knudshoved on Funen, was acquired by the municipality for about 10 million kroner. It stopped sailing in 1992 after changing its name and routes several times. Many residents in Korsør welcomed the ferry's return to its hometown on the day when the ferry arrived at Halsskov Ferry Port. Slagelse Municipality expects the newly purchased attraction will be ready for visits next summer.
Danish director getting rejected for Greenlandic documentary
Several international film festivals are rejecting the acclaimed documentary 'Kampen om Grønlan', The Battle of Greenland. The nine-year work is being deselected because the director Kenneth Sorento is not from Greenland himself. "My movie is being rejected because I'm white," Sorento told the Greenlandic broadcasting corporation Kalaallit Nunaata Radioa. The Canadian film festival ImagineNative Film Festival, which has refused to show the documentary, has maintained that the directors of the films shown at the festival must be indigenous people. Other film festivals such as Hot Docs in Toronto and New York Tribeca Film Festival have declined the film without giving reasons. Kenneth Sorento also expects a refusal from IDFA in Amsterdam, the world's largest film festival.