News
Sports Round-Up • 'War of the Rackets' more than light 'padeling'
---
This article is more than 3 years old.
The DBU, meanwhile, is facing an agonising choice of its own: the inclusion of either Arbejdernes Landsbank or Oddset on the kit of the national team kit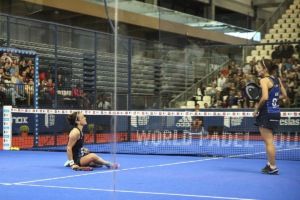 A storm is brewing over whether Danish competitors should use rackets or racquets to play padel, a cross between tennis and squash contested on an enclosed court that permits players to hit shots off walls. 
Okay, granted, it's a little more serious than that, but it's a pertinent distinction, as tennis favours the former, and squash the latter, and right now two sporting bodies are battling for control of the emerging sport in Denmark.
Underhand application?
The long-established Dansk Tennis Forbund (DTF) is challenging Dansk Padel Forbund (DPF), which is bidding to be officially endorsed as an independent association in 2022.
The tennis association recently applied to become a member of the International Padel Association (FIP), an organisation the DPF has been a member of since 2017.
50 years and counting
The sport has come a long way since being invented in 1969, and it is particularly popular in Hispanic-speaking countries.
In answer to the question posed at the start of this article, Google supports the view that padel is played using a racket.
---
Sponsor scramble: National football association caught out by new law
Forbrugerombudsmanden, the consumer ombudsman, has informed the DBU national football association that the Danish men's side cannot have both a bank and a bookmaker as sponsors. Ahead of the September games against Belgium and England, the DBU is charged with removing the logos of either Arbejdernes Landsbank or Oddset (Danske Spil) from the team's kit. Forbrugerombudsmanden has ruled that the pairing is in conflict with a new law (introduced on July 1) regarding the marketing of quick loans, reports bold.dk.
Man who helps addicts now wants to buy the Addicks
Danish businessman Thomas Sandgaard is closing in on a deal to buy London club Charlton Athletic, which was last month relegated from the English Championship to EFL League One. He has apparently offered 50 million pounds (411 million kroner) for the club, which for nine out of ten seasons between 1998 and 2007 was in the English Premier League. Negotiations have been ongoing with "four of five parties", according to Sandgaard, who believes a deal is 99 percent agreed. Bizarrely, the current owner, East Street Investments, paid a pound for Charlton back in January, and supporters are holding a demonstration against its control of the club on Saturday. Sandgaard is the founder of Zynex, a medical device company that specialises in offering pain management to recovering drug addicts. 
Surprise admission to guilt by disgraced pretend footballer
Bernio Verhagen, the Dutch football player who duped several professional clubs into buying him across Europe, has surprisingly pleaded guilty to charges of fraud and forgery at a court in Viborg, the Jutland city where he was arrested in November after trying to scam its local Superliga side. Verhagen, who was also charged with attempting to deceive Lyngby Boldklub, must pay 15,000 kroner to Viborg FF, which reported the player to the police two weeks after giving him a contract in early November 2019. In June, he was sentenced to 15 months followed by deportation after being found guilty of sexually assaulting his Chilean former girlfriend, and the court ruled that he will not face further punishment over his admitted fraud and forgery.
Back in the swing after a year out, but no majors to redeem himself in
Thorbjørn Olesen, 30, returned to action in late July but failed to make the cut at the English Open, his first tournament following the European Tour's decision to lift the suspension placed on him in August 2019 after he was charged with sexually assaulting a female flight attendant a month earlier. Olesen's court case, which had been scheduled for May, has been postponed until December 2021 due to the Coronavirus Crisis. The European Tour lifted the suspension because of an "unprecedented delay in court proceedings". Olesen has also been charged with common assault and being drunk on a plane. As things stand, neither Olesen nor any Danish golfers will participate in the US Open or US Masters in September and November. Last week Olesen finished tied for 66th at the Celtic Classic.
Ryder Cup winner completes heroic walk to support charities
Danish golfer Thomas Bjørn, the reigning Ryder Cup-winning coach, on Sunday completed a 210 km charity walk from London to Wales to raise funds for Unicef ​​and the Golf Foundation. On the way someone called him "Ryder Cup Captain Tom" after Tom Moore, the 100-year-old war veteran who recently walked around his garden 100 times to raise money for the British health service – a deed that Bjørn cited as a huge influence. Bjørn, who carried the Ryder Cup trophy in his backpack on the journey, is due to take part in the Wales Open, which starts on Thursday. 
Rosenborg comes calling for coach let down by Denmark
Åge Hareide, who lost his job as the national coach of Denmark following the completion of his contract in the summer, has been appointed the head coach of Norway's biggest club, Rosenborg. The Norwegian, 66, who ended his first stint at the club in 2003, has his work cut out. After four successive championships, Rosenbog could only finish third in 2019, while this year they are currently fourth after 14 games.
Another Danish double on the cards?
Should Yussuf Poulsen's side RB Leipzig defeat Paris St Germain tonight and make it through to the final of the Champions League, it will complete a unique double-double for Danish players. Last year, Danes lined up in both finals: Anders Christensen for Chelsea and Christian Eriksen for Tottenhan Hotspur. And with Eriksen already in the Europa League final, following Inter Milan's 5-0 defeat of Shakhtar Donetsk last night, Poulsen is just a game away from a unique Danish double-double. 
Ajax pick up another Danish starlet
Yet another young Danish talent has been snapped up by Ajax. This time it is 16-year-old Jeppe Kjær, who has been sold by AC Horsens to the Dutch club where he has signed a three-year contract. According to AC Horsens, the amount paid for the recent school-leaver has smashed its transfer record. Kjær played just 11 times for the club.