News
International Round-Up: Government backing for Belarus opposition
---
This article is more than 3 years old.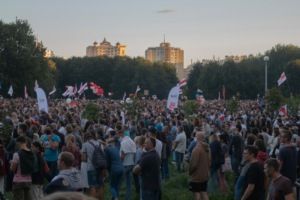 The Danish government has come out in strong support of those opposing Belarus's government following the eastern European country's general election earlier this month.
On Thursday, the foreign minister, Jeppe Kofod, will host a broad gathering of civil society organisations to discuss how best to support the national opposition and maintain international pressure on Belarus President Alexander Lukashenko.
Denmark's government has set aside an initial 500,000 kroner to support journalists, human rights activists and victims of violence in Belarus.
Backing from fellow EU nations
EU nations, including Germany, have already said that they do not recognise the election result, which resulted in a landslide victory for Lukashenko.
The European Commission has already stated that it will "repurpose" millions of euros in aid and is considering additional sanctions.
Belarus opposition leader Svetlana Tikhanovskaya, who is exiled in Lithuania, has called on all EU nations to ramp up pressure on the regime.
---
Support for Balkan migrant project
Denmark is to provide financial support to a project seeking to allow would-be EU migrants in the Western Balkans to return to their home countries. Currently, thousands of migrants are stranded in nations such as Albania, Bosnia-Herzegovina and Serbia with little hope of entering the EU legally. The financial support is aimed at enabling them to return to their nations of origin –predominantly in the Middle East and Africa.  Denmark will donate 15.4 million kroner to the project, which is also supported by the Netherlands, Germany, and Austria as well as the European Commission. So far, the project has helped more than 1,500 migrants to return home voluntarily.
MobilePay finally reaches Greenland
The resolution of a longstanding technical issue means that Greenland's 40,000 adult citizens can finally use the phone payment system MobilePay. Although it has been in use in Denmark since 2013, the extension of the app to the autonomous Arctic territory has been fraught by problems related to  Greenland's unique country code and phone numbers. To activate MobilePay in Greenland, users must first link their Greenlandic phone number to a Danish number via a separate app. Developed by Danske Bank, the app allows payments to be made using a Danish phone number connected to a bank payment card.
Iceland COVID-19 advice change
The Foreign Ministry is advising against all unnecessary travel to Iceland. The new recommendations follow Iceland's imposition of a new home quarantine requirement for all incoming travelers, including those from Denmark. Since Wednesday, all travellers arriving in Iceland have been tested for COVID-19 upon arrival and again after five days. All of them are required to isolate until the result of the second test is known. Estonia and Lithuania have also issued similar requirements for foreign travellers, and official Danish travel advice has changed as a result.
Five Bulgarians guilty of entry fraud
Three men and two women have been sentenced to two months in prison by Sonderborg Court after being found guilty of falsifying documents. The would-be entrants, all Bulgarian nationals, had presented false work certificates to border officials when attempting to enter Denmark from Germany in July. The defendants, who had all denied any wrongdoing, have also been banned from entering Denmark for the next six years.