News
More electric cars: higher costs for petrol and diesel-run vehicles – report
---
This article is more than 3 years old.
Klimarådet climate council disagrees with car commission's recommendations, whereas experts called plan "unambitious and disappointing"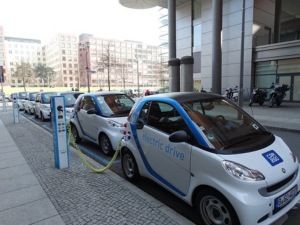 Elbilskommissionen, the electric car commission, has long been working to promote using green cars in Denmark, reports DR.
Its latest recommendations on Monday entailed proposals for raising petrol and diesel prices, a subsidy for electric car owners and a general toll of 1,000 kroner for motorists.
As per the original plan, the commission was required to make recommendations on how to lower Danish car taxes in order for customers to get more electric cars and fewer petrol and diesel-run vehicles.
And it would appear the cost of operating a petrol and diesel-run vehicle will depend on the number of electric vehicles on our roads.
By 2030, it will cost an owner of a petrol or diesel-run car an extra 400 kroner per year if politicians aim to have 500,000 electric cars, the commission concluded.
In addition, if politicians aim for 750,000 electric cars, the extra cost will rise to 2,300 kroner annually, while a million electric cars will raise it to 5,900 kroner annually.
Elbilskommissionen, however, also pointed out that the proposal does not fulfil the task as it will only remove CO2 emissions to an extent.
Climate Council disagrees
Following the report by Elbilskommissionen, the Klimarådet climate council maintained that aiming for a million electric cars on the road by 2030 is the only way to reduce greenhouse emissions by up to 70 percent.
The chair of the council, Peter Møllgaard, on the occasion, said that if this policy is not adopted, society will need to make reductions elsewhere.
Klimarådet, in its latest report, stated that the country may need 1.5 million electric cars by 2030 – depending on how much the greenhouse emissions are reduced in other sectors.
However, Elbilskommissionen's recommendations have omitted that scenario.
Brian Vad Mathiesen, a professor of energy planning at Aalborg University, deemed the recommendations "disappointing and unambitious".
Experts further pointed out that the commission had not been able to recommend a 'concrete' model towards the transition to a greener car fleet.