News
National Round-Up: UN calls for resolution to Maersk migrant situation
---
This article is more than 3 years old.
Elsewhere, social events cancelled, firework use restricted and forgers convicted.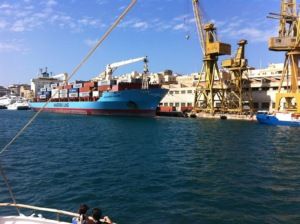 After a month off the coast of Malta, the UN has called for solidarity in a bid to end the plight of the 27 migrants still aboard the Maersk Etienne.
It follows a long-running disagreement over who is responsible for the migrants aboard the Maersk container ship.
READ MORE: International Round-up: Denmark called upon to take action over stranded Maersk vessel
On Sunday, three of the migrants jumped from the ship. It was an action that could have had very serious consequences, which signals the dire conditions experienced by those on the vessel.
Of the migrants on board, there is at least one child and a pregnant woman.
Dodging responsibility
The migrants were picked up by the container ship on August 4 at the request of the Maltese authorities.
Since then, however, the Maltese authorities have denied that they were picked up in their jurisdiction and have refused to take responsibility for those on board.
On their part, Denmark has identified Tunisia as the responsible party since it was a Tunisian port that was closest to the point of rescue.
Malta claims it is Denmark's responsibility as the container ship was travelling under a Danish flag.
Guy Platten of the International Chamber of Shipping describes the situation on Maersk Etienne as "deteriorating rapidly", and he has offered the stark reminder that "the responsibility for the safety of these people rests entirely with the governments".
---
Christmas and New Year to go off with less of a bang
A new bill, expected to come into force in mid-December, aims to crack down on the dangerous use of fireworks during the festive period. Last year, there were approximately 250 incidents in which fireworks were fired at police, the emergency services or random members of the public. Desiring not to see such events transpire again, the bill includes an increase in prison time for those convicted and a greater preventive effort from the police.
Chronic scepticism
In Denmark, 1.3 million people suffer from some kind of chronic pain, and yet there are a great number of misconceptions regarding the conditions. To target this, the National Board of Health yesterday launched a new information campaign intended to support sufferers by raising awareness amongst the population. With such awareness it is hoped to generate a more compassionate and sympathetic environment for sufferers.
Universities cancel events
With the introduction of new restrictions came recommendations regarding social events – recommendations that a number of universities have chosen to heed. At Aalborg University, Roskilde University and the University of Southern Denmark, all social events have been cancelled for at least two weeks. No new announcements came from the University of Copenhagen as events there had already been cancelled.
Convictions and deportations for foreign forgers
Over the course of two weeks, eleven people from eastern Europe have been arrested and deported after attempting illegal entry into Denmark, with each being sentenced to 60 days imprisonment, deportation, and a six-year ban on re-entry. False employment contracts had been used in an attempt to evade being stopped at the German-Danish border.