News
Culture Round-Up: How improv can improve family relations
---
This article is more than 3 years old.
In the wake of the tightened coronavirus restrictions, three theatre groups tell CPH POST they are more than prepared to prevail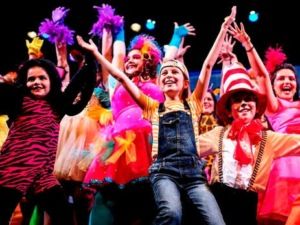 Dad can't cook or dance; Mum's useless at spiders and relaxing. And they're both decidedly uncool.  It's a common assumption shared by most children in secure family units, but here's your chance to set the record, parents!
Take the perishers to the recently-launched Copenhagen Theatre School and enlist the whole brood in its Family Improv course. 
Normally, the lessons are two hours long, but for the month of September, free trial classes are available. Find out more here.
Role reversal
"It can give children the opportunity to see their parents in a different light: not just the boring mum and dad who are always telling them what to do," enthused CTS founder Madeleine Dolby. 
"Maybe eight-year-old Sarah gets to play Mum for once, while Mum can play a young girl who has suddenly had a major growth spurt because she finally started eating her vegetables!"
The Family Improv course is one of several offered by the English-language theatre school. Children's theatre classes are broken down into three age group – 8-11s, 11-14s and 14-18s – and there is also a beginners improv class and coaching sessions.
Adjusting our expectations
Dolby is confident that family improv can strengthen bonds and make family members understand that nobody is perfect and that perhaps they expect too much from one another.  
"It's important in relationships that we can see each other's trials, triumphs and struggles," she said. "If someone is struggling, but not sharing it, we as a family don't know that help is needed, and therefore can't help."
Although Dolby cautions that family improv is not therapy, she is adamant that it can definitely "have a therapeutic effect". 
---
That Theatre ready to go to extremes to counter coronavirus offensive
Ahead of That Theatre's worldwide premiere of 'Extremophiles' on October 21 at Krudttønden theatre, its artistic director and most well-known actor Ian Burns remains optimistic the run will go ahead as planned despite the government's recent decision to reduce the public gathering limit to 50 in Copenhagen. Burns had already added eight extra matinee shows (at 13:00) to compensate for only being able to fill half of the theatre's 100 seats. "There have been some takers for these," he told CPH POST. "I'm trying to be optimistic and know that we're not alone. Maybe the tide will swing back the other way in a couple of weeks, eh?" For more details regarding 'Extremophiles', a new play by Irish playwright Fergal O'Byrne, check out this link. 
Effective strategy? If your art mirrors the reality, surely it will help?
Carol Hayes, the director of the forthcoming Copenhagen Theatre Circle production 'The Effect', remains hopeful that the latest coronavirus restrictions, which will remain in force until nine days before its opening night on October 1 at Krudttønden theatre, won't further disrupt its plans. "We were already restricted to half-capacity, so we are really hoping the rules wont limit our audience further," Hayes told CPH POST. "The Effect is a clinical trial set in a hospital, so we've been able to integrate the COVID restrictions and the need for a germ-free environment into the play, creating a fun and immersive experience for the audience whilst keeping everyone safe." Hayes and her team, whose budget has been halved due to the coronavirus, have already used a fair amount of invention: from holding online auditions and split rehearsals to regularly testing the cast. "With such a small budget, we are especially reliant this year on our audiences supporting us and hope to welcome old and new faces." Visit this link for more information about a play billed as a "clinical romance" in which two people fall in love whilst testing an antidepressant medication. But is the love real, or just the effect of the meds?
Malmö's calling! Time for a gurn and a giggle?
Despite taking place in the land that will never be locked down, Playmate Theatre Malmö's forthcoming production of AR Gurney's 'Sylvia' at the Bastionen theatre, which runs from October 22-25, will adhere to responsible "health and safety restrictions, with social distancing and limited audience numbers", according to cast member Vanessa Poole. "The world needs a giggle right now," she told CPH POST about a play that offers "a meaningful take on growing through life, love and marriage and making choices". However, Poole does not envisage the current situation in Denmark impacting audiences. "We get a handful of people from Copenhagen watching in Malmö, but our audience is mainly from southern Sweden," she conceded. If you want to address this disparity, visit this link to find out more. 
Great Scott! It's Denmark's answer to David Bowie …
Amanda Collin, a 34-year-old Danish actress, landed a large role in Ridley Scott's new sci-fi TV series 'Raised by Wolves' because her androgynous look reminded the 82-year-old director of David Bowie. Collin, who plays the role of  'Mother' in the HBO production, is best known in Denmark for taking the title role in 'En frygtelig kvinde' ('A Horrible Woman'), for which she won a Robert award. "I thought 'Mother' should look like David Bowie, and I cast 'Mother' to be both a man and a woman, but more woman than man, just as David Bowie is more man than woman," Scott told DR via Zoom. "So I had this picture of David Bowie with the red, bristly hair, and when I saw Amanda, I thought: 'Wow!'. I hope she's not offended that I say that, because she's amazing." The series will premiere in Denmark on TNT on September 16, ahead of eventually appearing on HBO Nordic.
Pia vs Stine: Guest turns tables on host to put her victimhood in the spotlight
Former Dansk Folkeparti leader Pia Kjærsgaard took the opportunity of her appearance on the DR2 program 'Debatten' last week to criticise its host Sofie Linde (most famous for 'X Factor') for drawing attention to how a big name in TV told her to give him a blowjob when she was 18, or otherwise he'd torpedo her career. "You make yourself a victim," Kjærsgaard told the 30-year-old during a discussion about gender equality. Linde herself had recounted the story during the Zulu Comedy Gala a week earlier, leading to nationwide debate about the issue.
Kim likes to win: More Oscars in the sights of Denmark's Mr Academy
Multiple Oscar winner Kim Magnusson is teaming up with Den Vestdanske Filmpulje in Aarhus to make more short films that the collaborators hope might add to his statuette tally. Together they will produce four a year. This year's application deadline is November 5. The selected films will be given 200,000 kroner each. So far, Magnusson has two wins from six Oscar nominations on his CV: 'Election Night' in 1999 and 'Helium' in 2014. Meanwhile, his father Tivi won one for 'The New Tenants' in 2010.
Based on George Floyd? Nothing short of preposterous
Buzz is growing about the forthcoming Danish film 'Shorta', which includes a scene in which a young Arabic man is strangled to death by a Danish policeman in similar fashion to the way George Floyd was killed in May. Directors Anders Ølholm and Frederik Louis Hviid, who recently debuted the film at the Venice Film Festival, were quick to remind the media that the similarities are coincidental as they started planning the film six years ago. 'Shorta' hits Danish cinemas on October 8.
Six artefacts that celebrate Denmark's less celebrated cultural cannon
The National Museum's new exhibition 'A treasure to Denmark' includes a number of items that shine a light on less celebrated elements of Danish culture. They asked Danes to donate quirky artefacts from their storage space, and the result was 89 exhibits. DR then selected six of its favourites: a collection of erotic accessories donated by a sex toy party hostess, a Kim Larsen poster, a collection of Dirch Passer DVDs, a pebermøen (whatever that is – fornicating metallic pigs, according to the photo), some climate action signs and a letter informing somebody they are HIV positive.
From life in a crime family to hanging out with the Avengers bros
Danish actor Roland Møller has landed a major role in 'Citadel', a new Amazon series made by Anthony and Joe Russo, who are best known for the 'Avengers' films. The 48-year-old former gang member is best known for his leading role in 'R', and he has also appeared in Hollywood movies 'Papillon', 'Skyscraper' and 'Atomic Blonde'. His co-star in the latter, Charlize Theron, vouched for him when he was stopped at LAX due to his criminal record. 
Globe Quiz scheduled to go ahead as planned (when it's turning 20?)
The famous Globe Pub Quiz, which for two decades has been delighting trivia fans with what most aficionados concur is the best in the city, will be going ahead on Thursday September 17 despite the recent coronavirus revisions. Entry costs 40 kroner per person and, as has been the case since it started around 20 years ago, the winning team gets 1,000 kroner. Get there well before 18:30 to guarantee getting a good table.