News
September sizzler! Summer back for emphatic encore
---
This article is more than 3 years old.
Temperatures will hit 26 today and tomorrow in Copenhagen!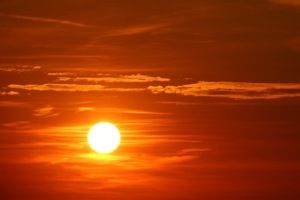 Where did that come from: two sizzling September scorchers to make us all reach for the sunscreen and sombreros.
Temperatures will hit 26 degrees today and tomorrow in Copenhagen and further afield.
And this really has come out of the blue.
Yesterday it was barely 18 degrees, and it was mostly drizzling.
Blue skies … beach weather
From around midday we can expect a strong sun to start shining through dissolving clouds, with temperatures peaking in the late afternoon at around 16:00. 
As well as the capital, Funen, northern Zealand and eastern Jutland can also expect a gloriously sunny day, with more to follow on Tuesday, when temperatures will once again hit 26, or even 27 in places. 
However, with the sun now setting far earlier than during the heatwave in August, don't expect a restless night under the sheets.
And normal service will resume on Wednesday when temperatures are expected to plummet down to 19, and then even further down to 15 on Thursday.