News
Government wants to make helmets mandatory for electric scooters
---
This article is more than 3 years old.
The transport minister, Benny Engelbrecht, wants law changed regarding small motorised vehicles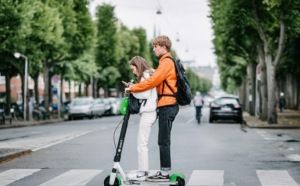 In the future, people who shoot across town on electric scooters will probably be required to wear helmets when doing so. 
The transport minister, Benny Engelbrecht, has asked the Færdselsstyrelsen traffic authority to submit a law change regarding small motorised vehicles for public hearing.
The move will make helmets mandatory for people using electric scooters, motorised skateboards and self-balancing vehicles.
"Unfortunately, there are still too many people who are injured when operating an electric scooter," said Engelbrecht.
"So I'd like it to be mandatory to wear a helmet when driving one. I look forward to an open debate about the new rule proposal and maybe hear some other ideas in regards to how we can make a change."
READ ALSO: Copenhagen mayor wages war against electric scooter companies
More prone to accidents
Engelbrecht's proposal comes in the wake of an evaluation report that showed you are seven times more likely to be involved in an accident on an electric scooter than on a bicycle.
The minister went on to contend that one of the issues regarding electric scooter is that they are often used in the nightlife when alcohol is involved.
The Transport Ministry will make a final decision regarding the new rules based on the public hearing.
The news comes on the heels of Copenhagen's recent crackdown on electric scooter rental firms.
In Denmark it is not mandatory to wear a helmet when on a bicycle – though it is recommended.