News
Police in nationwide speeding crackdown this week
---
This article is more than 3 years old.
The vast majority of fatal accidents on Danish roads involve speeds that are less than 20 km/h above permitted limits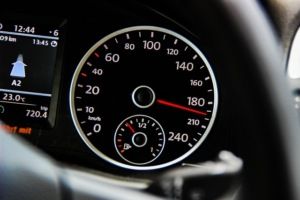 From September 21-27, the police will be on the lookout for speed demons on roads across the country.
High speed is often a key aspect of traffic accidents – 62 percent of fatal accidents involve speeds of less than 20 km/h above permitted limits.
"Every year the police are called out to untold numbers of traffic accidents that could have been avoided if those involved had adhered to speed limits," said Christian Berthelsen, a spokesperson for the state police traffic centre. 
"Even just exceeding the speed limit a little bit can have great implications for braking distances."
READ ALSO: Government wants to make helmets mandatory for electric scooters
Speed kills
There is a clear link between speeding and the number of people injured and killed in traffic – high speed is the most common reason for accidents leading to serious injury or death.
Between 2013 and 2018, 403 people died in traffic accidents in which at least one of the involved parties was driving too fast in terms of the speed limit or the road conditions.
And in 72 percent of the accidents, speed was a deciding factor in the accident occurring.