News
Culture Round-Up: Crazy Christmas Cabaret postponed until November 2021
---
This article is more than 3 years old.
But the cinemas remain open, along with the bathrobes of naked adults on a children's TV show with stateside recognition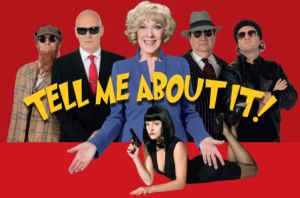 You know things are bad when an institution gets cancelled – like the Olympics, which were scheduled to take place in Berlin in 1916 and Tokyo in 1940 and 2020. 
But did you know that a host country was never picked for the 1942 World Cup, with both Brazil and Nazi Germany in contention. 
The Germans eventually lost 2-3 to Sweden in an unofficial 'World Cup Final' in that year, with Hitler promising beforehand that defeat would result in the whole team being sent to the Eastern Front.
In prestigious company
Fast-forward almost 80 years and the Olympics has been postponed again, along with Europe's biggest national team football tournament. 
While in Denmark a huge swathe of long-running events have been outright cancelled, including Distortion, Folkemødet, the Copenhagen Jazz Festival and the Roskilde Festival.
And now you can add the Crazy Christmas Cabaret to that list: a show that has trodden the boards of Copenhagen every year without fail since 1982.
When times are tough
The 2020 edition 'Tell me about it', a London Toast production inspired by US and UK gangster films, will instead be shown at the Glassalen theatre in Tivoli from November 2021 to January 2022. 
Mimicking the manner of one of its characters, London Toast announced the postponement with: "Hey! Times are tough, aren't they? Yeah …"
All tickets purchased for the 2020 show will be valid for next year.
No anti-depressant this year
Creator Vivienne McKee and her husband, its producer Søren Hall, remain typically upbeat.
"Only one year to go, which means that we can guarantee that the show will be funnier and crazier than ever! We look forward already to seeing your happy smiling faces, without masks, when times are better," they said.
"As one theatre critic said: the Crazy Christmas Show is an anti-depressant. Everyone should be able to get it on prescription."
---
NY Times salutes Danish kids show chocker-cock with nakedness 
It is mostly thanks to the New York Times that we now know there is a program on children's television, 'Ultra smider tøjet' (Ultra strips off), in which adults appear completely naked. And the tone of the article was completely positive (unlike English newspaper The Sun), with the headline and lead-in: "A Danish children's TV show has this message: 'Normal Bodies Look Like This'. The program aims to counter social media that bombards young people with images of perfect bodies." Before an audience of 11 to 13-year-olds, five bath-robed adults reveal their imperfect bodies and field questions from the audience. But while Dansk Folkeparti group chair Peter Skaarup has called the series a "vulgar way" of teaching sex education, most responses have been positive.
New video game in which women get sexually harassed at a julefrokost
A new Danish video game, 'Welcome to Elk', is courting controversy, as it features a lot of unusual stories, often laced with dark humour and macabre images, reports DR. Produced by Triple Topping Games, its co-founder Astrid Refstrup tells DR that the game tells "stories that otherwise would not be told", such as sexual harassment at a julefrokost, which is in fact based on a real-life experience of Refstrup's mother. Refstrup describes the game's habitat as a "mix between a North American hillbilly community in a little trailer park and a small Greenlandic fishing village".
Cinemas playing catch-up with compensation
The Ministry of Culture made an error when it overlooked cinemas in its summer package, reports Kulturmonitor. The package made it possible to offer half-price tickets to a wide range of culture venues, such as museums, theatres, music venues and circuses, but not cinemas. "After reconsideration, it has now been clarified that cinemas can receive support under the European Commission's Block Exemption Regulation on an equal footing with the other cultural activities," ruled the ministry. Cinemas are accordingly eligible to benefit from a 300 million kroner activity pool for cultural activities, which is supporting most culture venues through the months of September and October.