Business & Education
Out damned Dane, out I say – Hasta la vista, Sueltita!
---
This article is more than 3 years old.
They say elephants never forget, which is true unless they've just been shot by the reigning Spanish monarch. Fortunately bystanders remember the felling, and the fallout, only too well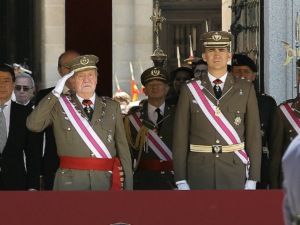 It all rather sounds like a Hollywood film: a fateful meeting between two patriarchs has devastating, far-reaching consequences. 
The result, the senseless shooting of an elephant in the sixth decade of its life, is eerily portentous of a beloved monarch, King Juan Carlos I of Spain, unravelling before the eyes of his subjects. Not least because shortly afterwards he slipped in his tent and fractured his hip.
At the heart of this tale of downfall is a femme fatale (like The Great Gatsby's Daisy), a witness whose contribution will be debated for years to come.
She also just happens to be a Dane.
Enter Lady Macbeth
Entrepreneur and international socialite Corrina zu Sayn-Wittgenstein gained international notoriety in 2012 as the Dane at the heart of a web of scandal surrounding the then Spanish monarch – and today, eight years later, it is a web that continues to grow thanks to her recent interview with the BBC.
In her role as an organiser of rare animal hunts between 2000 and 2006, she became closely acquainted with Juan Carlos I to the extent she was his mistress between 2004 and 2009. 
But it is her purported role as a self-described Lady Macbeth-type villain that she is most keen to shake.
Tripped over tusks
Even before the emergence of Sayn-Wittgenstein onto the scene, the monarch was already in turmoil, following a corruption investigation into his son-in-law in 2011. But it was the spectre of the elephant, all five tonnes and 50 years of it, that really came to haunt Juan Carlos after 2012 – not least because he was his country's acting World Wildlife Fund honorary president. 
When the king fell and fractured his hip on a trip organised by his mistress, the holiday and the affair were catapulted into the Spanish headlines. 
Sayn-Wittgenstein, for her part, claimed a limited role in the shooting, stating: "I'm a hunter, but I've never killed an elephant in my life and never would. For me, the whole hunting experience was traumatic in that sense."
But the real trauma would come to follow at the hands of the Spanish intelligence service, CNI. She described one of the campaigns against her as painting her as a "Lady Macbeth [leading] this wonderful man astray", and another as being led by factions within the palace already opposed to the monarch.
Scandalising an elephant
All of this took place in relation to a king who, in theory, should have been untouchable. Not only did he guide Spain out of the autocracy of General Franco's rule, which came to an end in November 1975, but he single-handedly defended the new democracy from a military coup just over five years later. Juan Carlos had all the makings of a historic figure.
But the secret trip came at a time when unemployment in Spain was at 23 percent, and it is no surprise that the details around their relationship and its financials have once again come under close public scrutiny in a country that has been one of the worst-hit by the Coronavirus Crisis.
The expense and the infidelity, having been married to the popular Queen Sofia since 1962, stirred up significant dissatisfaction, with his abdication coming in 2014.
A villain reconciled?
More recently, in 2018, a female voice, attributed to Sayn-Wittgenstein, was published by the Spanish media describing the former king's dealings in Saudi Arabia, and it is such dealings that are the subject of intense scrutiny this year.
The king is alleged to have received kick-backs from contracts in the region. In particular, a 100 million US dollar payment from the late Saudi king, Abdullah, placed in an offshore account connected to Juan Carlos, of which 65 million was later sent to Sayn-Wittgenstein.
It is this payment that continues to haunt Sayn-Wittgenstein. She described the gift as "enormously generous" and, in testimony to Swiss prosecutors, believed it was a gift made out of love, and a response to the "reputational destruction" she had been subjected to.
Fernando Rueda, an expert on the CNI, tells a different story. Noting how unlikely it is that she continues to be a person of interest, he contends she is simply making a shrewd attempt to present herself as the victim at a time when interest in her financial affairs, especially in Switzerland and the UK, remains high.
What's done is undone
In March, King Felipe VI announced he would renounce any inheritance from his father, and in June the Spanish Supreme Court began investigating Juan Carlos's role as the facilitator in the building of a high-speed rail network.
Sayn-Wittgenstein, who was herself listed in the Panama Papers in 2017, claimed this month that there will be "hundreds of other accounts in other jurisdictions" linked to the former king.
Facing her own legal challenges, she remains emotionally loyal, stating she still has "very sincere feelings for him" and is "extremely saddened by the turn it has taken".
With court proceedings set to take place in the UK in the near future, for Sayn-Wittgenstein, unlike her fictional counterpart, what's done is not quite yet done.