News
Healthy competition that embraces inclusivity, fairness and international scope
---
This article is more than 3 years old.
Dedicated to catering to all abilities, Copenhagen International School is rightly proud of its standout sports program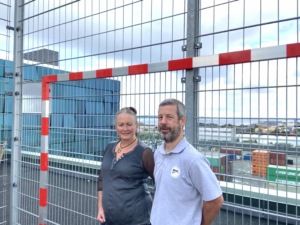 Denmark is known for its inclusive approach to education, but in something as naturally competitive as sport this might appear to pose a problem.
No longer is there any debate surrounding the importance of sport and exercise in a child's schooling. Many studies have shown that an active lifestyle helps support happy, healthy kids who perform better on the pitch and in the classroom. 
Nowhere in Europe would this be considered breaking news, and yet not every country has put this theory into the same practice. In typically Danish fashion, sport in and out of school is approached in a free-flowing and egalitarian manner, with greater emphasis on the health and social elements than competitiveness. 
The Danish way 
Outside of school, sport in Denmark is structured around the club system. Kids and adults alike can be confident that they will find a local club that will support them, regardless of experience or talent.  
This approach is largely mirrored in the school system. Emphasis is placed on keeping healthy and socialising with your peers rather than being on the winning team. In practice this means limited talent-based class structuring and a greater focus on soft-skills such as communication, leadership and empathy. 
For Brits, this approach will be especially alien. Schools in the UK are known for rigid talent-based separation and the encouragement of competition in physical and health education (PHE) lessons. Private schools in particular take sports very seriously, with strict regimes for teams competing in the inter-school competitions that they so covet. In many ways, the result is put before the child. 
Picked last … again 
The harmful effect of prioritising competition is becoming increasingly well documented. Children regularly report anxiety, in both PHE lessons and team sports, about being the last one picked from a group, or about receiving a vitriolic half-time team talk. Many dread the fallout of being on the losing team.  
It is this kind of outcome that Danish schools hope to avoid. When the focus is shifted to health and well-being, it becomes clear that nobody should be discouraged from sporting endeavours. Victory loses its shine when it comes at the cost of anyone's physical or mental health. 
This is best demonstrated by looking at the theory in practice. Copenhagen International School is typically Danish in this regard, despite being an international school with a different curriculum. Toni Heisterberg Andersen, one of the school's PHE teachers, described the Danish system as one that actively seeks to stamp out sources of stress, as "ultimately that's the kind of system we're trying to mirror at the school".
Inclusivity is key
At Copenhagen International School, the least and most talented are coached equally. The focus instead is on "participation, engagement, skills improvement, and the social component", according to Heisterberg-Andersen, and this extends to after-school activities too. 
Gilbert Grant, the athletics & activities director, describes a system of total inclusivity: "Kids can always join a team, and they are free to choose if they want to compete." 
Heisterberg-Andersen concurs. "The focus is not on winning, but how to be a good winner or a good loser," she added – the kind of life-skills that are going to be of use in all pursuits.  
For some, however, this might appear inadequate. Why not teach these kinds of skills whilst retaining the segregation that ensures that the most talented are pushed to improve? This is not an element that Copenhagen International School has lost. 
"In coaching the 'best' kids, we encourage them to build on leadership and communication skills," contended Grant. So, even within an inclusive system, talent shines through.
The same but different 
Copenhagen International School is therefore typically Danish in its ethos. But, with its international edge, the school stands apart. This is apparent not only in its facilities – boasting four gyms and catering for a total of 50 after-school activities – but also in its approach to teaching. 
Heisterberg-Andersen describes every moment as a "learning moment", and in PHE this means a depth and structure to education that is atypical in a country known for its free-form approach to learning. 
"PHE is not just limited to the gym," she explained. There is a real focus on transferable skills, and the department – made up of seven dedicated PHE teachers – works alongside other subjects to provide a more integrated and holistic sports experience. 
It is after school, however, when the differences really come to light. Due to the transitory nature of many of the students, Gilbert states that every year is treated like a 'time capsule', where the focus is on creating a renewed environment. A huge amount of resources are pumped into a great range of activities, supporting a bustling environment that is busy every afternoon. 
Every year, a few former students return, eager to give back and help coach current students – a testament to the positive atmosphere cultivated there. 
Victory still as sweet 
For the teams that emerge from these after-school clubs, the world really is their oyster. Although now on hold due to COVID-19 travel restrictions, Copenhagen International School teams have fantastic travel opportunities. Partnering up with other international schools, there are typically three tournaments a year: within Denmark, across the Nordics, and throughout Europe. The school is international in both theory and practice. 
It is impossible to deny that kids (and coaches) love to win. There is a minimum level of competitiveness that can never be removed from sports, nor would it be desirable to. Only the hardest working and most talented athletes can go on these trips, and nothing makes them happier than bringing a trophy back to Copenhagen. 
Despite this, the Danish ethos remains. Copenhagen International School only partners with like-minded schools, meaning that there are often rules in place dictating that a certain number of players must be used – thereby opening the experience up to as many as possible. 
The students lucky enough to go are on a strict regime: sticking to healthy eating habits and limiting mobile phone use during the day. "It's still great fun!" Heisterberg-Andersen and Grant insist. 
Copenhagen International School, then, holds a unique position. Upholding the twin Danish principles of healthy living and equality, the school is committed to promoting healthy practices off the field as well as on it. 
At the same time, it is committed to being international. It is well integrated beyond Denmark's borders, making it easy for their students to transfer across international schools, whilst at the same time retaining many of Denmark's more positive educational directives.