News
International Round-Up: Romanians on course to be biggest diaspora in Denmark
---
This article is more than 3 years old.
But when it comes to benefiting from Danish aid, there can only be one winner: Africa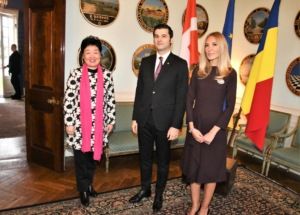 It's no wonder they have such a busy embassy and there is so much activity before domestic elections, as Romanians are now the third largest group of foreigners in Denmark, according to Danmarks Statistik.
Today they only trail the Poles, who account for 41,000 of Denmark's 5.82 million population, and the Syrians (around 35,000). Completing the top five are the Turks and the Germans.
READ MORE: Romanians in Denmark have until Thursday October 22 to register to vote in the country's parliamentary elections on December 6
Up 1,700 in 12 months
The number of Romanians in Denmark grew from 30,700 to 32,400 between 2019 and 2020. In 2015, the tally stood at just 19,000.
Approximately one in eleven people in Denmark are foreign. Of the 537,000 here at the start of the year, 271,000 come from western countries and 266,000 from non-western countries.
---
Teacher's solidarity doesn't last long
Beyond the Mohammed Cartoons, which claimed another victim recently when French teacher Samuel Paty was beheaded in an act of terrorism, originally being published in a Danish newspaper, there is another link to the story, as a Danish teacher vowed to follow her French peer's example recently. Writing on Facebook, she said she would use the cartoons when teaching her students freedom of speech. But she quickly took it down when the post received threatening comments. She has since notified the police.
Foreign minister unlikely to be investigated
The police are obliged to consider investigating an incident that took place 12 years ago when the foreign minister, Jeppe Kofod, had sex with a 15-year-old girl after meeting her at a Socialdemokratiet event for youth members where he was the keynote speaker. Several citizens have reported the matter as a rape. According to the law, 15-year-olds can have sex providing it is consensual. Experts contend there is no chance whatsoever of there being an investigation. 
Denmark and Germany can now exchange surplus green energy
Denmark and Germany can now exchange renewable energy following the establishment of a connection between offshore windfarms in the Baltic Sea via a 400 MW subsea cable. Kriegers Flak in eastern Denmark is now linked to German Baltic 1 and 2 thanks to work carried out by Danish Energinet and German 50Hertz. Any excess above the capacity will in the future be made available to the other market. The connection has been called the Kriegers Flak Combined Grid Solution.
Danish-led conference helps to raise billions for Sahel
A Danish-led donor conference has helped to raise 10.8 billion kroner to aid the ongoing humanitarian crisis in the Sahel, a huge belt of land that stretches across Africa, lodged between the north and central parts. "We cannot tacitly watch the entire region being maintained in underdevelopment, growing poverty and continuing conflict, which all leads to instability and increased migration flows," commented the development minister, Rasmus Prehn. Denmark has earmarked 700 million kroner in funds between now and the end of 2022.
Candidacy for OECD top job launched today
Ulrik V Knudsen's candidacy to become the secretary-general of the Organization for Economic Co-operation and Development (OECD) is officially being launched today. The current OECD deputy secretary-general is the former permanent secretary of state at the Foreign Ministry and ambassador to the OECD, so he is well versed in the workings of the organisation.
Parliament approves coronavirus aid package for African countries
Parliament has approved an aid package of 650 million kroner to help several African countries fight the coronavirus. Broken down, it will support the major UN organisations and the Red Cross (300 million), Danish NGOs (150), the countries' own efforts (150) and the UN's new Multi-Partner Trust Fund (50). "Africa and the surrounding areas are facing a humanitarian and economic catastrophe, which is growing bigger and bigger every day. It will hit refugee camps, densely populated areas and the poorest and most vulnerable groups the hardest," commented the development minister, Rasmus Prehn. 
UNICEF to store a billion coronavirus vaccines in Nordhavn
UNICEF has confirmed it will be storing 520 million coronavirus vaccine syringes in a warehouse in the Copenhagen district of Nordhavn. The vaccines, which have already been paid for, will then be distributed to needy recipients all over the world from Denmark. Overall, the intention is for the operation to distribute a billion by the end of 2021. 
Peru health problems linked to fishmeal exported to Denmark – report
Salmon sold in Danish supermarkets has been linked to a type of fishmeal and oil that is causing widespread pollution and health problems in Peru, reports Danwatch. Apparently, the salmon, which is sold in Lidl, are fed the fishmeal and oil in Danish factories. Back in Peru, they have been linked to causing respiratory diseases. Denmark imports around 20 percent of its fishmeal and oil from Peru – for a value of more than 300 million kroner.
Geranium team wins silver in the Euro heats of the Bocuse d'Or
The Danish team won silver in the Bocuse d'Or in Tallinn on Friday, a European qualifier for the biennial world championships that will take place in Lyon next year. Geranium chef Ronni Vexøe Mortensen and his assistant Sebastian Holberg Svendsgaard will be hoping to go one better in 2021. Their menu consisted of eel catfish and quail, but they apparently lost points for having a messy kitchen.  
Baltic Sea fishing quota increases for cod, plaice and sprat
Negotiations on next year's Baltic Sea fishing quotas have concluded, and it is good news for most parties … but maybe not the fish. Stock quotas have been raised for cod in the western Baltic (up 5 percent, but reduced in the eastern section), plaice (+5) and sprat (+6). The increases might go some way to alleviating the expected blow the new post-Brexit quotas will cause in the North Sea. 
Denmark wins environmental guarantee case to lower cadmium levels
Denmark can maintain lower limits for cadmium in fertilisers than the rest of the EU thanks to an environmental guarantee case being won in the EU courts. The lower limit will enable the state to protect consumers against what it perceives to be a particularly toxic heavy metal. It is the first environmental guarantee case Denmark has won since 2008 – one concerning nitrates in food – and just the fifth since it joined the union in 1973.